PAWS – No Grace (FatCat)
Cutting the crap and giving until they've got no more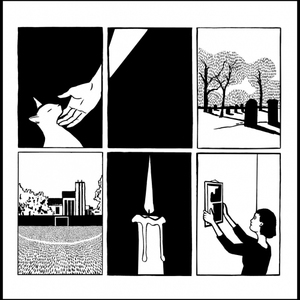 Two years ago
PAWS
released
Youth Culture Forever
(
review
). It was a blast of youth energy. And it was looking forward to the future of growing old with all the nostalgia of looking back. This time round PAWS have created
No Grace
, an album which takes a step back from in-your-face youthness of energy, and takes a more measured approach to moshing.
There's more stadium and festival rock to this than the small, sweaty venue. 'Asthmatic' rolls and climaxes with big electronic guitar slides. When the album does hark back to 2014's
Youth Culture Forever
there is a more polished finish to songs. In songs such as album opener 'No Grace' and 'Clarity' leading notes on the guitar have more clarity to them, whereas Youth Culture Forever had warmth and charm in the overload of fuzz. If anything, it's a little bit like PAWS are growing up and we're watching them grow away from their youth. But there's always time in
No Grace
to take a moment to give advice about living for the moment '
We are so young and barely born/How can you say that you're so bored?
' '
You don't even know who you are yet/Cut the crap and give until you've got no more
'. The last line can almost neatly sum up their attitude to song development on this album.
No matter how they have moved on PAWS still retain the right to punch out two minute or less songs. They cram in riffs and melodies that lean towards early Foo Fighters or Biffy Clyro and harmonise a few seconds together. Still talking about fast-fading life, relationships and fears not related to the aforementioned all the time they are enjoying being at the start of the millennia and revelling in its melodious sounds screaming out little nuggets of half-rhyme lyrics like, '
You are a gilded lily/between the devil and the deep blue sea
' on 'Gild The Lily'.
Some of these songs appear to be sculpted to appear at festivals and to contrast with songs already from the previous albums and EPs. As we delve into the summer festival season circuit PAWS should be playing at a number of them, however, they are paws deep in gigs around the UK of their own. So we'll have to see how that turns out.
As a second full album for Scotland's PAWS, this is a well-rounded, easy-to-enjoy album. With enough melodies and riffs to please the standard indie fan there is nothing that will rip out your earlobes to grab your attention, but it will get you with tidy melodies and well-trimmed guitar playing delivered with pace. Add to that a no nonsense delivery of cutting the crap and giving until they've got no more. But to see them live on a festival circuit with PAWS showing their teeth would add more extra vigour and context to these songs that they deserve. A promising and consistent band with a great command of melodies continues to deliver.