Kevin Devine – Bulldozer / Bubblegum (Big Scary Monsters)
The Brooklyn singer-songwriter calls on support from his fans and gives back tenfold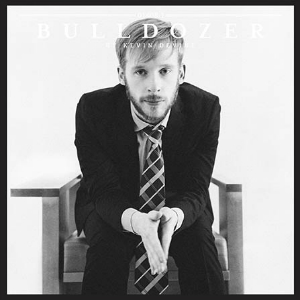 Kickstarter is a bit of a two-headed demon. On one hand, it's great at helping people reach out and raise funds for otherwise difficult to start projects that might not be commercially viable, or that have the brunt of an international conglomerate behind them. On the other hand, it means you do have to ensure you don't let those thousands of backers down – they have a personal, and financial, stake in the endeavour, and if it were to wind up being a pile of fragrant manure, you can bet your life there'll be some kicks started. Obviously, people know what they're signing up to fund, but art, film and music tend to go where they want rather than where they're told.
A few months ago, one of the Big Apple's finest folk-rock troubadours,
Kevin Devine
, unfurled a major campaign, looking to get backing for not one, but two full-length LPs – the first, a solo singer-songwriter-type thing with
Rob Schnapf
, producer behind some of
Elliot Smith
's greatest work, the second a record featuring his
Goddamn Band
with
Jesse Lacey
(
Brand New
) on knob-twiddling duties. After the dust had settled, Devine had the 12th biggest campaign ever on Kickstarter, raising approximately $114,000. A lot of people wanted to hear these twinned records enough that they were willing to fork over a considerable sum of dosh, despite the economic woes of the entire planet.
Devine is a conscientious, hardworking musician, with these next two releases being numbers 7 and 8 – not including his live records, EPs, singles and covers albums. Or his work with
Miracle Of 86
. Or
Bad Books
. Two records at one time might sound like a mammoth feat, and in a way it is, but coming from Devine, it's not exactly flabbergasting; we've come to expect a rapid turnover of work from him.
The first record,
Bulldozer
, AKA the folky singer-songwriter one, is pebbledashed with '90s post-grunge and the heart-splitting emotion of
Nick Drake
,
Jeff Buckley
and/or Elliot Smith. Schnapf undoubtedly has an influence here. There are moments when Devine ventures towards emo territory – no, not
My Chemical Romance
et al, rather the early forebears like
Sunny Day Real Estate
, albeit a far more tranquil version. The early work of
Jimmy Eat World
also rears it's tear-strewn head. While Devine still conveys a stringent, hulking folk vibe, full of bucolic strumming and pastoral passages, there's a skewed, emotionally devastated rawness. You could almost describe tracks like 'Couldn't Be Happier' as
Nirvana
-esque. Almost. You could probably also describe it as
Counting Crows
-aping.
'Safe' is a tangled web of fuzzy electric guitars, slowly worming and slithering through the soft plod of bass and the shuffly hi-hat waltz; this is full of trembling electrics, and whilst you probably imagine most singer-songwriters to wield a tousled mane and an acoustic guitar with bird stickers on it, Devine sports a gnarled haze of semi-shoegaze weapons and soft, Midwest rock choruses. 'Little Bulldozer' is a considerably poppier melange, featuring jaunty bobs of axe and positively pumping beats. Rhythms are off-kilter and it's alt. rock a la
Smashing Pumpkins
, but also a cut with a tonne of pep.
The lyrics are a vital element of Devine's solo work. His lyrical prowess has been a nifty USP over the years, and his erudite vernacular is a valuable tool in creating the scenes and moods and characters and narratives that he so proudly displays amongst the sonic thicket. On the bustling pomp of 'You Brushed Her Breath Aside', Devine chimes with gorgeous rhythms about an oppressive partner or perhaps a prostitute: "You could canvas every corner/ you could leave her a map/ but if no one's missing/ no one's hiding/ then no one's coming back." This is but one mere example of the impressive poetics featured on Bulldozer.
On his other record,
Bubblegum
, the words are equally important. 'Fiscal Cliff' with all its squealing,
Hole
-ish bombast, isn't exactly the most cryptic, but the politically charged ditty still parades an acerbic spiel: "Talking shit about the 1%... well that isn't going to get you anything/ it's just another slogan/ it's been co-opted/ it's just a clever bit of mar-ket-ing!" 'Redbird', draped in faraway solemnity and a swathe of reverb, it's a tad more undecipherable, but similarly elegantly worded: "Breathing water/ blood and iron in my teeth/ safe word – "redbird"/ nothing's working...
why oh why?"
As opposed to Bulldozer, Bubblegum contains a heap more bite. Both have a similar aesthetic – there's an invasion of early/mid-'90s guitar sounds, erring towards the angsty. Devine and co. veer around post-hardcore, folk-pop, indie, alt. rock, grunge, shoegaze, surf-rock and emo on both LPs. The difference is largely found in the tone – on Bulldozer, Devine is pensive, he's tormented. The majority of the album is enveloped in a maudlin sadness, and even the happier moments are washed with pain. On Bubblegum, the Brooklyn badass erupts. Devine is animated, angsty and rage-addled; he's anarchic, vivacious, gung-ho and agitated. Paces are quicker, growls louder, shredding shreddier... both records take similar approaches to sound, but divert where atmosphere is concerned.
Bubblegum harbours more than a few gems – 'Nobel Prize' is raucous and serrated. 'Capybara' is a brief
Pixies
-branded noodle. 'She Can See Me' swans around with punk undertones like a grumpy feral cat swamped in tar. Devine's vocals are constrastingly poptacular against the grinding bass guitars and lead licks. The finalé, 'Private First Class', bursting into earshot like a
Biffy Clyro
B-side, combines acoustic chords and bristly cyclonic guitar riffs. Rampant beats pound ceaselessly behind the pertinent words. The scene is set early on – "Private Manning standing in the courtroom/ pleading guilty, he shouldn't have to," and only gets more incensed from there. Devine's misnomered Bubblegum (for there's a lack of sweetness here), is liberal on the vitriol against the government and society. It's got an honest spirit-of-'77 punk vibe in the traditional, rage-fuelled, 'change the world' way.
Both records are very impressive in their own ways: Bubblegum is more overtly impressive, probably because it's easier to understand and relate to – it's a record voicing Devine's displeasure of some aspects of modern life, something especially relevant at the moment. Bulldozer is subtler. It will take more listens to adore, but may end up yielding more rewarding results. Both are great in their own, unique ways. Rest assured that these LPs will prove worthy additions to Devine's canon. Every Kickstarter who backed these two separate discs is surely feeling an immense pride and sense of relief knowing that not only were they partially responsible for two brilliant records, but also that they may well be some of the strongest material we've seen from Kevin Devine.