Goat Girl: On All Fours (Rough Trade)
South London outfit return with retooled sound to banish any thoughts of second album syndrome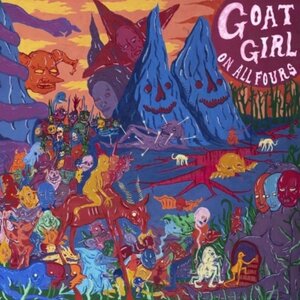 Creators of one of 2018s strongest guitar band debuts,
Goat Girl
have clearly grown since their
first album
. Moving away from the garage rock of their first offering, nothing here is as visceral as the bone-dry Gun Club style cowpunk of Country Sleaze or as racous as the power pop rush of The Man. While lead singer Clottie Cream's languid, Lana Del Rey via London vocals remain,
On All Fours
is cosntucted around light jazzy rhythm guitar chords, skittering drums and percolating electronic textures.
Pest with its skeletal guitar and eerie backdrop that bubbles up like one of the bleaker tracks from
Kid A
, sounds as though the rhythm section and scores of additional guitars will crash in halfway through but holds back developing instead into a skipping, 1960s pop track. The wordless vocals and ambling gait of Jazz (In the Supermarket) is more of a jam than a full-blown song, but supplies a pleasant enough diversion, something that the tempo shifting Once Again shares. P.T.S.Tea, the story of some ignorant moron who burnt drummer Rosy Bones with a cup of scalding hot tea on a ferry journey without apologising possesses some of Stereolab's Farsifa organ wooziness and Kosmiche propulsion.
A group who made their presence known via a run of excellent singles, the choices here extend the band's knack at creating an arresting 45. Boasting a persuasive earworm chorus hook Badibaba diverts into electro dissonance at the close. Goat Girl's finest moment to date lead single
Sad Cowboy
brings together an aerated synth pattern with a rattling percussive undertow, building towards a closing New Order-esque dancefloor-ready section that has the potential to sound colossal live (hopefully soon, fingers crossed). Sequencing the strongest two tracks in classic fashion at the run-out groove of Side 1 and the opening of Side 2,
The Crack
is underpinned by at the kind of indie disco drumbeat Franz Ferdinand made liberal use of, its climate change inspired chorus "
Cracks form / And the Earth's torn / Cant' go back
" buoyed by mariachi trumpet and multi-tracked harmonies.
In spite or maybe because of its genesis during a dark time in singer Clottie's life, Closing In is feather light dream pop, constructed around electronic squiggles and gentle guitar arpeggios. Similarly, Anxiety Feels with its soft guitar chords and close harmonies ("
I don't wanna be on those pills / I've heard they make you numb / Find another way to get my fill
") pairs disarmingly pretty music with despondent lyrics.
A recent addition to the group bassist Holly Hole's impressive foundation lines anchor the diaphanous synth patinas of Bang and the mad waltz of Where Do We Go From Here? Despite They Bite on You being slight and A-Men suffering from a lack of focus, the peaks more than outnumber the minor troughs here. Second album syndrome easily overcome in considerable style.
4/5