Goat Girl: Goat Girl (Rough Trade)
South London quartet match the promise their singles hinted at with impressive debut set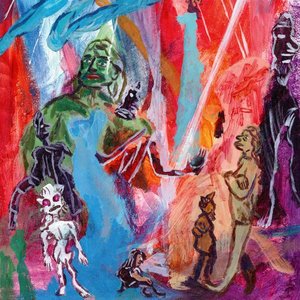 The debut album from South London indie rock quartet
Goat Girl
following a brace of impressive singles over the past 18 months rewards the expectation created by their scene-setting 45s. A compelling mixture of reverbed guitar riffs, swaying rhythm section, three-part harmonies and lead singer Clottie Cream's coolly assured vocals, the LP nails down the band's distinctive sound first time out.
While the nineteen song tracklist looks daunting at first, the running time is concise due as the band's ability to cram a song into less than three minutes along with a memorable lyrical hook to boot.
Following brief scene setting instrumental Salty Sounds, the pitching and lurching crashing Burn The Stake kicks the album into gear, taking aim at the government, with a suggestion of a funeral pyre for the whole rotten lot of 'em.
The violin-assisted Creep is the weary tale of a Tube journey that sees the narrator understandably wanting to '
smash the head in
' of a lecherous scumbag hassling her. Showcasing their languid side, Viper Fish (
Don't shed a tear/Please don't fear/We all feel shame
) plays like a slowed-down glam rock stomp, while I Don't Care Pt.1 is a curious but successful combination of alt. rock and torch song. Revisiting the theme a near-unrecognisible cover of Tomorrow from the soundtrack of classic musical
Bugsy Malone
is reinvented to sound something near to a Marlene Dietrich standard.
Creating tracks that possess the indefinable quality of being vaguely unsettling without the listener ever being able to locate why, off-kilter country lament Cracker Drool which opens with a bassline similar to The Coral's Dreaming Of You is a case in point. Elsewhere the principal character of Slowly Reclines who '
downs ten pints of bitter
' before lying down and The Man With No Heart or Brain are cut from similar cloth, the latter calling Captain Beefheart to mind with its diversion into skronking atonal passages.
Breaking up the running order with a quartet of short instrumental cuts remenicent of the between-song slivers from Blur's nineties albums, Goat Girl's best track to date, power pop rush The Man backed with an excellent Beatlemania themed
video
, builds momentum before bursting into its chorus. Sitting at the top of Side 2 where the album boasts its strongest moments, Lay Down is beguiling baroque pop, with what sounds like a dulcimer evoking a Stones-esque Lady Jane/I Am Waiting atmosphere.
Throw Me A Bone which hinges on the intriguing chorus lyric '
If you take me home/Then you'll end up alone
' is a slight departure from the rest of the LP, underscored by synth chords and what seems to be an Eastern guitar scale while I Don't Care Pt.2 builds into an almost gothic chorus before returning to its opening guitar arpeggio and fading out.
Hitting the final strait indie rock dust-up Little Liar segues into album trailing single Country Sleaze that mines same seam of skewed melodicism as Pavement. Heading into the run-out groove with birds chirruping in the dawn chorus,
Goat Girl
is an impressive crystallization of the quartet's sound and a clear indication of far more to come.