Amber Arcades: Barefoot On Diamond Road (Fire Records)
Dutch indie pop outfit return with reimagined sound on third LP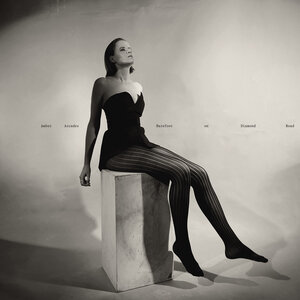 Their first LP in five years
Barefoot On Diamond Road
sees
Amber Arcades
undertake some sonic reupholstering. Following on from 2018s
European Heartbreak
, partly inspired by the ructions over Brexit, Chief Arcadian Annelotte de Graaf supplants the outfit's guitar driven approach with a more textural direction.
Working with New York producer Ben Greenberg, tracks are largely scored by synth patinas while the input of legendary American session drummer Matt Chamberlain (Tori Amos, Frank Ocean, Soundgarden) underlines the newfound emphasis on beats. That's not to say guitars have been completely banished however, as the strongest cut here, the beautifully woozy Water Stains and lead single Just Like Me glide along on slide guitar motifs.
The tiptoeing bass figure that underpins the percolating electro surfaces of Through calls Brian Eno's groundbreaking Another Green World to mind, a swerve towards the abrasive in contrast sees latter day torch song I'm Not There introduce heavy industrial rhythms and ultra-fuzzy basslines midway through. The title track is vaguely reminiscent of
Amnesiac
Radiohead, while Odd To Even constructed around strings and thunderous drum patterns is redolent of Burn The Witch if the mood was upbeat, not one of impending dread.
Contain and True Love meanwhile bear traces of Portishead's influence, the clattering rhythm track of the latter supplemented with massed sampled vocals. In the minus column, Life Is Coming Home, a series of treated a cappella vocals outsays its welcome, while the funereal paced piano ballad You Could Never Let Me Down makes little impression. While Amber Arcades don't seem interested in creating indie disco bangers anymore, faster tracks such as haunting missive
Turning Light
, to vary the pace would have been welcome.
A set that seems consciously designed to be a slow burner,
Barefoot…
is less immediate than previous works but still leaves its own imprint.
3/5