Abracadabra: Shapes & Colors (Melodic)
Ascendant Californian duo deliver intriguing set of off-beam synth pop on new disc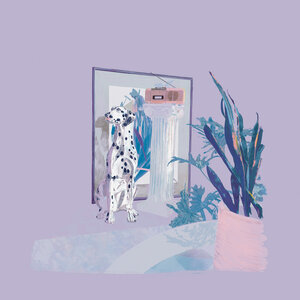 Making waves with their
recent UK shows
, percussive, off-centre synth pop outfit
Abracadabra
were well chosen as tour support for evergreen genre mashers The Go! Team. Comprising of Hannah Skelton: vocals, synths and Chris Niles: bass, synths,
Shapes and Colors
was written and largely recorded in the band's rehearsal space, the spacious, uncluttered production allowing Skelton's gossamer vocals and Niles' melodic basslines to shine through.
While the duo hail from Oakland, California, the group are strongly redolent of late 70s – early 80s New York, a period almost unmatched in terms of pop music innovation. Constructed in part on vintage synths and ancient drum machine, the disc brings a modern twist to the era when when post-punk, early hip-hop and leftfield electro could be heard blaring out of the Danceteria and the Mudd Club.
Inhabited by the spirits of John Taylor, Jah Wobble and particularly Tina Weymouth, Niles' exemplary foundation work sets the group apart. The sunshine pop of talk talk and in a photo's earworm chorus showcase the pair's work at its strongest, the former's lo-fi
video
paying homage to Talking Heads' (and Tom Tom Club's) groundbreaking
Stop Making Sense
. The weird, lopsided gait of the title track meanwhile cleverly clicks into place midway through, demonstrating the outfit's musical wherewithal.
The percolating inyo county and the angular guitar motifs of don't like u, which strays from the set's largely upbeat themes have hooks embedded within their structure that become apparent on repeated listens. In the minus column, swim and impactor despite their skillful arrangements are closer to collages than actual songs.
At the zoo
, with its blasts of Eastern horns and squiggly guitar lines evokes the second side of
Heroes
crossed with Malcolm McLaren's game changing Buffalo Gals. In softer terrain,
dawn in the age of aquarius
– unrelated to the 5th Dimension /
Hair
– classic, is dreamy, synth scored psychedelia.
As their bravura live show demonstrates, the duo's songs truly catch fire onstage. That said there's more than enough here to strongly suggest Abracadabra will pull off the big reveal that inspired their band name on future albums.
3/5