Two Gallants @ Hoxton Bar & Kitchen, London 18.07.11
San Fran folk-punk duo Two Gallants made a welcomed return to London last week after a two year touring hiatus which saw members Adam Stephens and Tyson Vogel working on their respective side projects.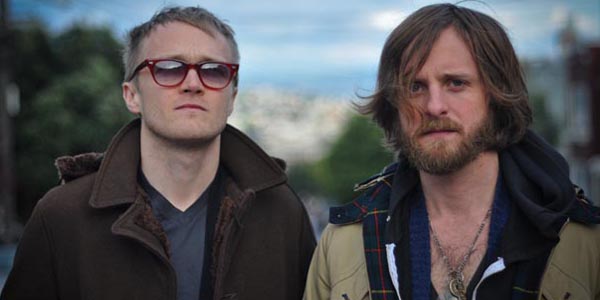 Their's was an example of how a great gig should run: stiflingly hot sell out show with punters packed like sardines, and too (being a return to touring) there was a certain nostalgia in the air alongside celebratory spilt beer on the floor.
Opening with 'Dyin' Crap Shooter Blues', a rarity that didn't seem to exclude any one member of the crowd, so collective was the singing of the audience with Stephens, they set the mark for an evening of what almost felt were "greatest hits" from a band that had been sorely missed over the past 24 months. It is Stephens' snarling vocals, sharp and enunciated to perfection, which draw you in and make each and every song played roll off the tongue of the singing audience packed at their feet. Classics like 'Las Crusas Jail', 'Nothing to You' and 'Despite What You've Been Told' featured alongside a cover of Abner Jay's 'I'm So Depressed'.
With five new tracks all extended to the audience back to back at the mid-point of the show Stephens and Vogel are treading the path of their branch of folk-punk with as much precision as ever, Stephens' succinct lyrics punctuated by Vogel's brash drumming which pounds with a fury and might of someone of a much larger stature. An exceptionally loud duo who create a racket and demand to be heard, live their songs stop and start with deliberate theatrics, forever leaving us hanging on the next lyric, the next drum kick that jolts you slightly, the screaming harmonica that often retains more emotion in its wails than their lyrics which scream with the same passion: "Ever since your epitaph was splattered on my wall no one comes to call, they can't stand the stench".
Departing the stage through the crowd to the bar at the back of the venue, Two Gallants would have been queued 'til dawn drinking every congratulatory pint the satisfied crowd would have put upon them. A great gig, ringing ears, a hoarse throat from singing and aching leg from tapping in time - band and audience alike. Can't wait for next time.