Touche Amore @ The Fleece, Bristol 04.12.13
Following the release of their third studio album, California hardcore trailblazers Touche Amore are touring across the UK. Stuart Knapman was at the opening night in Bristol.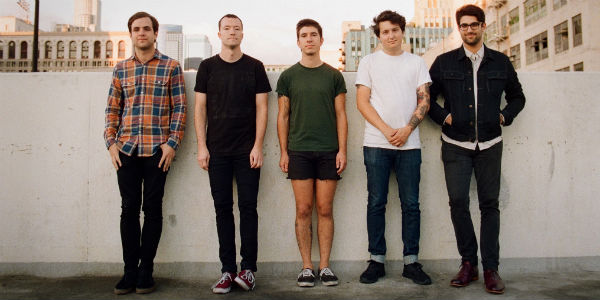 Opening tonights's show, the interestingly named
Dad Punchers
look more than a little familiar. Featuring three members of tonight's headline band, you'd be forgiven for expecting a set littered with tracks which sound like they might be Touche Amore b-sides. Thankfully, this is not the case. Dad Punchers set is full of short, sharp melodic punk songs, rushed through with breathless enthusiasm and energy. With songs about, "falling in love with your roommate then listening to them fucking someone else", Dad Punchers tread a line between self reflective and the dryly witty perfectly, never allowing one side to overwhelm their music. While Touche Amore's success continues it debatable whether Dad Punchers will ever become more than merely an interesting side project, but hopefully they can grow alongside their more illustrious alter-egos.
Following Dad Punchers are transatlantic hardcore crew
Self Defence Family
. Distinctly less melodic than their predecessors, Self Defence Family are a wall of pounding drums, screaming feedback and barked vocals. On stage, frontman Patrick Kindlon, is like an over-elaborate Shakespearean actor, clutching and grasping at thin air as he leads his band through one acerbic song after another. Between tracks though the vocalist is a completely different character, engaging the audience in amusing attempts at mimicking a Bristolian accent. It makes for a fascinating show, filling the crowd with a sense of nervous energy before the main event.
When
Touche Amore
take to the stage it is less than 10 seconds before bodies start flying across The Fleece, narrowly avoiding the two metal pillars in front of the stage. The onslaught doesn't let up as they tear through songs from their first two studio albums …
To The Beat of a Dead Horse
and
Parting The Sea Between Brightness And Me
, as well as material from their recently released third effort
Is Survived By
.
The evolution of the band from just another passionate and melodic, yet crushing, hardcore act, to arguably one of the pioneering bands of the genre can be heard in the new material. When Jeremy Bolm screams "I've outgrown what I used to be" on 'To Write Content', you can't help but feel it is reflects the evolution the band have gone through since the release of
…To The Beat of a Dead Horse.
While the content of Touche Amore's songs may have grown and matured, their live set remains as unrelenting as ever. They tear through songs, pausing only to display their appreciation for the breathless, heaving mass which the audience has become. Blom repeatedly thrusts the microphone into the mass, only for several dozen voices to roar his words back to him.
It's a triumphant set from a band at the height of their powers and shows like this only add weight to the opinion that, with
Is Survived By
Touche Amore have transcended a genre. They're no longer just one of the best live bands on the hardcore circuit anymore, Touche Amore are one of the best live bands you're ever likely to see.