This Many Boyfriends @ Seabright Arms, London 14.05.13
The homemade sign and colourful decorations that adorn the stage at the Seabright Arms provide a good indication of what the audience can expect from This Many Boyfriends. Charming and kitsch, the five piece from Leeds bound onstage ready to impress. Fresh off supporting fellow hometown heroes Kaiser Chiefs, the indie pop band are playing their last shows before taking some time away to write. And based on tonight's performance, there will be a plenty of fans eagerly waiting for the results.
May 14th, 2013 at Seabright Arms, London / By
Nicole Ryan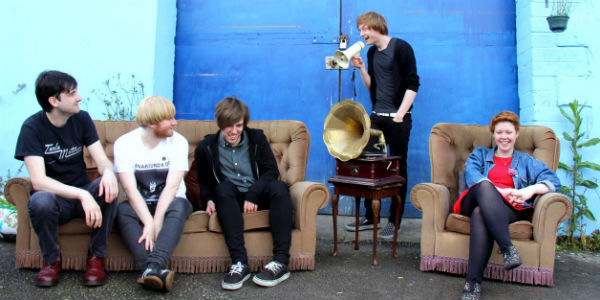 In contrast to dreamy openers
Flowers
who are heavy on talent but light on stage presence,
This Many Boyfriends
lead singer Richard is all about the showmanship. His wild gesticulation and animated facial expressions are more suited to a packed out stadium rather than the basement of an East London pub, but he's not letting the modest environment get in the way of a great performance.
Popular with the crowd, 'Number One' is played early and feels like it's already the type of track you would hear on radio, and remember. If there is a song that will get this band noticed, that is it. Latest single 'Tina Weymouth' is also well received, showing a more heartfelt side of the band.
This Many Boyfriends are clearly at ease with each other, and the performance feels effortless. Richard approaches the drums to give drummer Laura a celebratory high ten after they make it through a new track without incident. And they do an equally good job of building a rapport with the audience. Confessions of pre-prepared jokes are endearing and songs like 'I Should Be A Communist' showcase their sense of humour.
It is the bands accessibility, which also makes them so likeable. They play songs about 'shitty temp jobs' and frustrating romances that are relatable for most in their twenties…or any age really. It doesn't take too much effort to guess what 'I Don't Like You Because You Don't Like The Pastels' is about. And it has the crowd bopping along enthusiastically. It's at this point that front man Richard appears to tire of the stage and ventures out in to the crowd to start performing from there, still managing to be completely compelling.
Finishing with 'That's What Diaries Are For' the band leave the audience feeling smug to have seen them in such a small venue. Not only because we got to witness a great performance in an intimate setting but because when This Many Boyfriends get the recognition that is no doubt coming their way, we'll be able to use the classic hipster line 'I knew them before they were famous.'