The Bronx @ Clwb Ifor Bach, Cardiff 10.02.13
The Bronx are an unconventional band to say the least. Having signed a major label deal after just twelve shows they decided to form their own White Drugs label to release their first few releases, feeling they weren't ready to release on a major. Since then they've released four full length albums (all entitled The Bronx) and two full length mariachi inspired albums (both called Mariachi el Bronx), whilst building a reputation as one of the most ferocious live bands on the planet. Recent years have seen their mariachi alter egos taking the limelight, but 2013 seems to be the year that they return to their swaggering punk'n'roll best with new album The Bronx IV arguably the best they have released. We headed down to Cardiff's Clwb Ifor Bach to see if it still all stacks up live.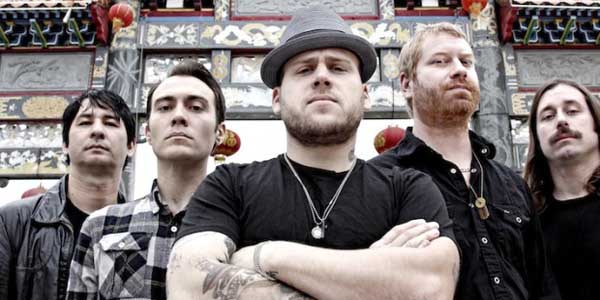 Opening the show were Irish three-piece
Axis Of
. Unfortunately a late venue change meant that the majority of the audience were yet to arrive when Axis Of took to the stage. However, this didn't stop them putting in a first rate performance, with their infectious, melodic, emo-tinged punk winning over those who'd got the memo and made it down early. Underpinned by an extraordinary modesty (they must have thanked the audience for coming down early about 50 times) it wouldn't be a surprise to see them back across the Irish sea in the not-to-distant future in front of much bigger crowds.
Following Axis Of were Canada's
Single Mothers
. Reminiscent at times of a version of Gallows fronted by a snot-nosed skate rat they put in a great showing. Their disaffected stage presence and witty lyrics more than made what was otherwise solid but unspectacular punk into an exciting and engaging sight to behold. Songs like 'Nice Dresses' with it's snarling "She doesn't even love me she just wants to fuck me, maybe she just wants to fuck with me", may not be the most challenging music in the world, but when they're delivered with such venom and willful lethargy, who cares? Certainly not Single Mothers.
Despite both support acts greatly impressing it was perhaps inevitable that
The Bronx's
arrival would blow them out of the water. The moment Matt Caughtran, Joby J. Ford and co. set foot on stage the previously half-empty Clwb Ifor Bach turned into a seething, sweating mass of bodies with barely an inch of room to spare. Opener 'The Unholy Hand' from the new album had the crowd singing along like they'd known it for years. The same happened with other new tracks such as 'Pilot Light' and 'Along for the Ride'. However, Caughtran upped the ante again when announcing in a drawl "Here comes your shitty future". This seemed to be the cue for the crowd to collectively lose it and it was a matter of seconds before bodies began piling onto the stage before launching themselves straight back off. Despite the chaos going on around them though The Bronx didn't miss a beat, showing impressive musicianship which is often overlooked due to the hyperbole surrounding other aspects of their live show.
Put simply, The Bronx are one of the best bands on the live circuit and should be missed at your own peril.