Steve Ignorant's "The Last Supper" @ Shepherd's Bush Empire, London 19.11.11
Punk is dead? We'd like to think not, but after this gig it's definitely hooked up to life-support. The Clash have long lain deceased, The 'Pistols should never have existed, and now, after an ear-bursting, gut-wrenching 35-year fight against evil, Steve Ignorant put anarcho-punk legends Crass to rest with a passionate, energised and incredibly emotional set of the hard-hitting atheist and anti-war anthems that have made this group some of the most adored anarchists in history.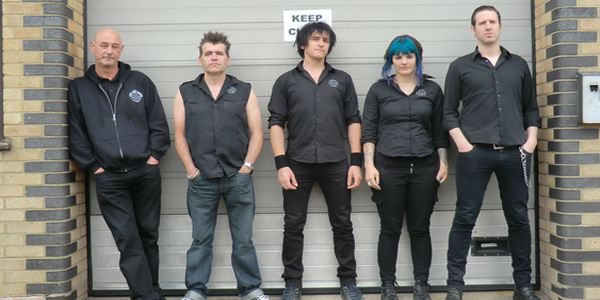 Of course the show was sold out, that was obvious from the moment Steve Ignorant announced that this would be the last performance of Crass songs ever. Of course the audience would feel elated to be seeing their hero perform for the last time, perhaps for some the first time, the songs that gave them hope and rebellion when they needed it most. Of course, no one could have quite prepared for just how positively thrilling and captivating this night turned out to be.
The main event was preceded by
The Cravats
, a legendary punk rock band with a strong pub rock sound not dissimilar to the UK Subs. Led by the gruff ferocity of The Shend, who soundly epitomised the word intimidating, the group bashed through killer tunes like 'Precinct' and 'I Hate The Universe' with extreme nonchalance and extreme attitude all at once.
When
Steve Ignorant
and his four-piece touring band emerged, the crowd went mental. As in, clinically psychologically unstable. Throwing us unmercifully into 'Do They Owe Us A Living?' and 'End Result', Steve's vocal was even more brutal and sinister than the records suggested; Crass may have been saying goodbye, but there was no way in hell that they would go quietly. After third track 'Bomb Plus Bomb Tape', it began to sink in exactly how privileged we were to be sharing this moment. Gloriously in his element, Steve gave the top shelf an infective smile, raising his fist in a unifying gesture that brought us all a little closer to the experience.
The band were bloody good too; no-one expects punk to be lyrically poignant, raw, aggressive
and
musically apt, but Steve's accompanying musicians were among the tightest and yet the most authentic punk musicians going. Even amidst such musical competency, one member still managed to shine; Carol Hodge became our new favourite being in five seconds flat, exceeding the authenticity required with a perfect vocal blend of punk rock legitimacy, savage conviction, dynamic theatricality and technical excellence. Steve has begun a new spoken word project with Carol and Pete Wilson, who played bass for The Last Supper, and with the lyrical and vocal abilities of Ignorant and Hodge, this will be something special to watch out for.
Little was said between songs, perhaps only a handful of sentences the whole night, leaving the songs with the necessary room to speak for themselves along with the collage of projected photographs, most sent in by the die-hard, black-clad Crasstafarians who populated the stalls. Among the pictures were Crass logos, lyrics and mottos that formed the basis of the band's mentality: "Destroy power not people", "Fight war not wars" and the bitterly sarcastic "One God. One church. One husband. One wife".
Two-thirds of the way through, the band walked off-stage and a two-piece drum set was placed to the left of Steve for the introduction of Crass drummer and co-founder Penny Rimbaud. As Steve fought back tears, the duo performed a drum and vocal version of 'Do They Owe Us A Living?' before the addition of Eve Libertine, another of Crass' three original vocalists, for the memorising avant-garde piece 'Darling'. During the latter, a pin could have dropped in the audience and, if Libertine's vocal hadn't have been so sinister and beautifully powerful, we would all have heard it.
The set ended with a few of the best. 'Shaved Women' was executed to perfection, with Eve joining Carol for an impromptu doubling of the spirituous refrain "in all our decadence people die". The lyrical irony of 'Punk Is Dead' was not lost on us, as brutal and enjoyable as it was candid and sad. Prior to the introduction of Penny and Eve, 'Rebel Tribal Rebel Revel' made for a stunning live punk moment and 'Big A Little A' opened true to the record with an adorable group of kids huddling round Carol's mic to sing the track's opening playground refrain.
Crass' legacy will live on forever. Their ruthless anti-conservative punk is just as potent and relevant today as when it was released in the midst of the ruthless, hopeless Thatcherite rule. This was exemplified best by the dynamic and dutiful audience, an eclectic mix of young and old, punks and skins, appropriating the evening with more energy than this journalist has ever seen at a live show. As the set reached its conclusion with the brilliant 'Bloody Revolutions', it certainly didn't take a nuclear scientist to realise that we had all been a part of Crass that evening, as if the whole event had been one last musical free-for-all at the Dial House, where Penny and Crass visualist Gee Vaucher provided an "open door" to any artistic types trying to find their feet, and consequently created Crass on Steve's arrival. Like that house, everybody was made extremely welcome tonight and everybody contributed to what will unquestionably go down as one of the greatest punk shows in history.