Simone Felice @ Bush Hall, London 10.04.14
Former Felice Brother plays captivating London show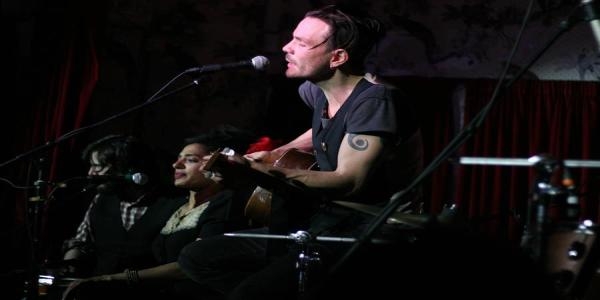 And so, on this Thursday night we find ourselves dipping into Bush Hall, home of a veritable bevvy of fine artistic musicians. Its warm and welcoming light and baroque walls plays host to
Dan Whitehouse
, purveyor of an over-thinker's romanticist folk, and
Dave Ford
, as the openers for Simon Felice's London show.
Dave Ford's brand of blues-roots, hard strummed acoustics is majestic and bruised, a perfect start to an evening of drama and eloquent joy. His scratched vocals lend a real weight to the lyrics. In the vein of Frank Turner, his venom in 'Every Time' Is a real knock out-closer.
A friend of
Simone Felice
, it's no wonder he keeps him close. A swift exit of the stage sees a short interval before the legendary Matty Green steps up on stage, followed by Gabriel Dresden, picking up their instruments up as Mr. Felice himself appears, fringe leather jacket swaying as he swigs red wine. Straight from the bottle, aaahhh here we go!
The magnificent aura of a Felice show is the rollercoaster of human emotion; displays of grief and gratitude all heralded with a wink and a smile. In a dim echo of Bill Hicks' "its just a ride' speech, but with some weight given to our emotional intelligence. And he doesn't disappoint with this latest show! Opener 'New York Times' sets up pensive topical ground. A minimal arrangement coupled with stomps and claps resonates through the silent crowd.
Felice is largely silent throughout the performance, allowing the songs to speak truly, though his nuggets of wisdom, so desired by frequenters of the live shows, are welcomed like an old friend. The tale of 'Our Lady Of The Gun', written for his daughter after a school shooting, shows his true sensitivity to our condition. Resonating lyrics are catapulted into the stratosphere by Dresden's undertones on the cello, and the breathy vocal styling of Felice himself.
But throughout we segue nicely between moments of reverie and heightened pleasure. 'Molly O', the first track off new album
Strangers
is alive as the features on Felice's face, his signature gurn of real effort a joy to behold once more. With Green and Dresden behind him, their big sound is created with minimal resources, and yet they eloquently reveal the power behind the track.
The dreamlike quality of the event builds, the Cello solo intro of 'Don't Wake The Scarecrow' stiffening against the thick air. Felice switches between guitar, vocals and the stripped down drums stage right. A beat poet to the last, offering us the rough rambling stories of his past in increments. Reminiscing on the folly of his youth, bussing to California with a lovesick heart perhaps the most beautiful his delightful rhythmic tremble. "There was degenerates, there was runaways, there was saints on that bus. It was all us" fading into 'If You Go To LA', a lamenting number which deepens the cello notes further, yielding to the choral intertwining of Felice and Green's vocals.
The inimitable encore is brief and sweet, with a energetic swing folding into the final borrowed blur of Neil Young's 'Helpless' and the old favourite 'Knocking On Heaven's Door'. This version has been done before, but is a cult classic to the audience, as woops and hollers encircle the foursome, Dave Ford having joined them on stage for this final showdown. It's a beautiful ender, and leaves a blissful sheen on the warm and fuzzy crowd. Yet another Artiste for the Hall to add to its wall. Gorgeous.