Simone Felice @ Bush Hall, London 27.04.12
Simone Felice visits London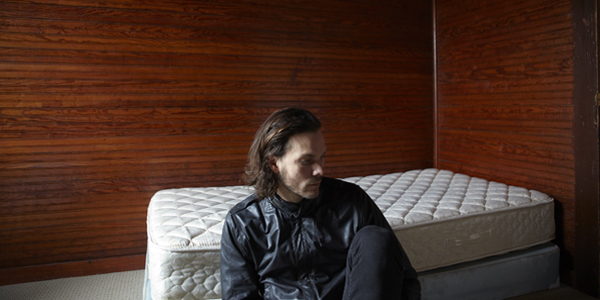 "There were a lot of sad people in my town" explains Upstate New Yorker
Simone Felice
of his hometown Palenville, nestled in the Catskills. Playing a sold out Bush Hall to a proportionately and perhaps understandably older weighted audience - his music sharing an affinity with the great storytellers and singer songwriters of the 20th Century - Felice has performed in varying guises over the past 7 years. And from busking NYC subways with the Felice Brothers, onto the glam blues and soul getup of the Duke & the King, he has repeatedly reinvented his own brand of traditional American storytelling.
It is without surprise that this musician has reached cult status. Felice, now 35, underwent openheart surgery two years ago and has since adopted an almost Messiah-like following, and indeed presence on the stage. Certainly it is arguable he is unabashedly aware of his own talents, moreso maybe guilty of being under the spell of his own voice, and while for some this would border on pretension; perhaps self indulgence, his introductions, poignant and poetic in their diction, serve to uncover the truth behind these tales and their reference points: The song for the Indian girl who was found murdered in the cornfield near her home in 'Hey Bobby Ray', the devastated son of Dawn Brady, the tortured war veteran of 'One More American Song'. In light of his latest album, released simply as an eponymous solo recording, Felice has offered that this particular collection of songs "were a part of me" and a story he had to tell. Live rather he seeks to offer a sort of redemption, peace and recompense; to lay to rest the memory of those he takes as his subjects. It's a unique and often transcendental pondering on the preciousness of life through the depiction of the utterly tragic. The result is something far more hopeful and uplifting that one might expect.
Performing as
The Simone Felice Band
, the five piece which includes the Duke & the King's enigmatic Simi Stone, are impossibly joyful and heartfelt, and given the twenty something dates they have embarked upon for this UK tour alone, there appears no letting up of spirits in their performance. They are clearly born performers who enjoy their art, and the interaction between Stone and Felice is captivating to watch. Their male and female harmonisation soars - Stone's honey dewed vocal, weighted with a '60s soul offers a balance to Felice's powerful and yet stark; at times ghostly voice, while melodic fiddle arrangements dance around these lyrics, similarly beautiful inspite of their topics. For all these songs of death, loss, fear - the dark corners of life - Felice (also a published poet and author) brings a devastatingly poetic beauty to the macabre: "He turned the lily white muslin into bright red blooms" he sings on opener 'New York Times'. Later he recites a snippet of prose before launching into The Felice Brothers' 'Don't Wake the Scarecrow'. The set inspite of comprising of an almost greatest hits selection of Simone Felice's material, manages to avoid simply regurgitating these. Instead the songs are dressed up or stripped of their instrumentation allowing the evening to maintain a balance between introspective acoustica and the Gospel/American hybrids of 'You & I Belong', written for his daughter and the more percussively experimental take on 'Shaky'.
Returning to the stage joined by Ben Lovett of Mumford and Sons, for an encore of Neil Young's 'Helpless', which bleeds seamlessly into Dylan's 'Knockin' on Heaven's Door', it is the second of tributes to the Band's Levon Helm who passed away last week. "He was a friend and a mentor," Felice stated at the close of the main set, "Yet these legends never truly die" he continued before launching into 'Radio Song'. Its choruses of "Please don't you ever die" a simultaneously fitting tribute to the loss of one of the greats; and a reminder of the talent on stage and how that too could have been lost. Twice.