Part 2: Vieilles Charrues @ Carhaix, 15 - 18 July 2010
With performances from Chapelier Fou, Debruit and Sexy Sushi, Bearded's festival fun in France continues...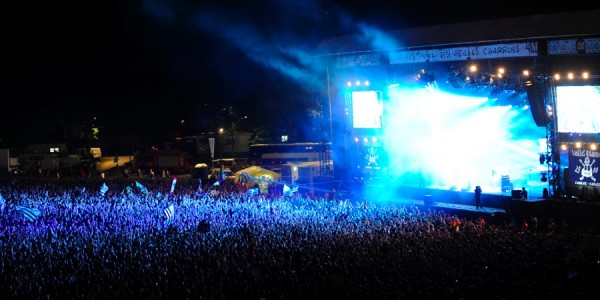 Day Three
Best day ever.
We don't want to miss anything today so it's a quick trip to Carantec to see the coast (there is an island – yeap a whole island – that you can rent for €200 a weekend) and eat another; you guessed it, three-course meal of artichokes and sausage. Je t'aime France; please don't make me go home.
At the festival, we're back at the Beach Box watching
Poor Boy
. He's also local and friends with Ootiskulf. I know this because apparently he'd shown up in her set the night before – not that I noticed. He's ok but not great, desperately trying to mask his French accent with an odd English-ish throaty vocal. If you sound Fronch, you should embrace your Fronchness. But he has learnt from Chapelier Fou's mistake and is staying firmly wedged in the little sun shelter the caravan provides. Plus he's got cool shades on. And a t-shirt with a kitsch picture of a saint on it. Maybe that's enough.
It is now absolutely baking. I'm suddenly not so chuffed about the boots I'm wearing and the Beach Box has zero shade except in the shadows of those who are choosing to stand up, so guess where I'm sitting?
Poor Boy is followed by
69
, that's soixante-neuf for those of us who never learnt to count higher than 'dix'. Opinions were divided in lieu of this duo - Armand Gonzalez, lead vocals and guitar and Virginie Peitavi on the Moog. Me, I was perfectly entertained, particularly by their rather shouty cover version of PJ Harvey's 'Down By The Water' and even more so by 'Rock and Latex'.
Because I'm almost certainly sure that the Moog is not the sort of soundmachine you usually find yourself dosing off too, it's pretty clear the sun is getting the better of me. So it's back to the Cabaret Breton for some shade and Breton folk/free jazz courtesy of
Le Choc Des Electrons Libres
. They're a fusion-happy lot these ones, bastardising every shade of 'world music' in their onstage noodling. But what we're really waiting for now is
Air Biniou
.
I do love a bit of silliness and it doesn't get much better than an air bagpipes competition. This is Brittany baby, take your wussy air guitar skills somewhere else! Hyping up the crowd in anticipation are two men in cow-patterned cowboy hats, they're throwing condoms out and shouting 'Protect Yourself'. The suggestion of safe sex sends the audience into an absolute frenzy. 'What responsible rock n' roll behaviour,' I think to myself. And then it begins.
A couple take their positions, the music begins and what follows is the lamest air instrumenting I've ever seen. There's no pomp, no circumstance, they're just hopping about the stage doing the funky chicken with only one arm. The crowd boos. Good, I'm obviously not the only one who's disappointed. The next competitors look a bit more promising. Six men in crap wigs and kilts get up, they've obviously worked out a bit more choreography than the last lot but despite inevitably mooning us all at the end, they're not that great either.
Next up three girls in fur coats and odd phallic headgear take the stage. Oh fuck yeah, this is more like it. And now I'm in hysterics, jumping up and down as they bagpipe it up to a medley of classic rock songs. Finally, what appear to be last year's champions take to the stage. Waving a wrestling belt crafted Blue Peter-style and generally basking in their own glory, their bathrobes come off and full cowboy gear is revealed. Air bagpiping and line dancing, the crowd screams the loudest in their favour and the title is firmly defended. What a riot.
Eventually the sun goes down and we run off to the Xavier Grall stage to catch French electro bangers
Sexy Sushi
. It's a crap name for a band but headed up by Rebeka Warrior's rampaging live show I'm inclined not to care. Apparently Rebeka is also part of a twee folk act called Mansfield. TYA, but it's hard to imagine this raging femme singing sweet harmonies especially when she starts hurling pot plants into the crowd. There's a lot of LGBT love for them though and a group of girls waving the rainbow flag get invited up on stage to join in the shenanigans. A couple of them even get a cheeky snog from the front lady herself who with crowd-surfing included isn't shy of a bit of interaction. Finally for 'Petit PD' two insanely buff men are revealed who, wearing little more than hot pants, take to rubbing baby oil all over each other. My eyes are bulging out of their sockets at this point, and I'm giggling with delight when we one of our party tells us she's singing 'Kiss me little gay boy, I can suck you off as well'. Ooh I say…
Wrapping the night up perfectly, we end up at the Kerouac stage for
Phoenix's
first ever show in Brittany. There's overwhelming love from the audience that's rewarded with Simon waving the 'Gwenn ha Du' or Breton flag at them all (Bretonians are quite the patriots). I can't help shedding a soppy little tear because it all feels like some spectacular happy ending to a really cheesy film.
Highlight of the day:
Did I mention air bagpipes?
Day Four
Wow it's been a long weekend. I've drunk so much of the local cidre that I'm turning into a barrel. My face has been stuffed with crepes and I don't think I'll ever be satisfied with anything less than three courses for dinner ever again. In other words, I've been spoilt rotten. To top it all off, we get a given a tour behind the scenes by the festival's press liaison officer Thierry, or TT as we've started calling him. He's obviously a complete dude and gives us lots of fun facts about how many potatoes are consumed – exact figures I can't remember but are somewhere in the region on 20 tons. We're shown a massive tankard of beer that's mainlining alcohol straight to the central bar through a neat underground tunnel and, in what is obviously TT's favourite bit of the tour, we get served a pint fresh out of the truck. Result.
Our first gig of the day comes courtesy of
Debruit
back at the baking Beach Box again. Just like Chapelier Fou, the sun is obviously making it very hard to see what he's doing on his magical knob machine (official technical term #2) and he's got a little towel covering it up. Always up for some head-nodding tunes, this is definitely the Beach Box's weekend highlight. Upon 'I'm Going Wit U' I get all excited because I remember reviewing the single for Bearded last year and live it's just as dope.
We hurry off afterwards to interview him in a novel London bus that's been converted specially for this purpose. We're triple-teaming him journo style and it turns out he was actually born in Carhaix and his whole family, even his 82-year old Grandad, have come along to watch him play. Gramps sounds like a bit of an old skool hip cat that, with a traditional Breton music background, was really intrigued by his grandson's ability to 'play all the instruments'. Hahaha let's all take a moment to laugh at silly old folk.
We get back in time to catch the end of
Pony Pony Run Run
, one of those French bands who could easily infiltrate the UK music scene. They have a catchy name, no accents and fairly decent tunes, so they just might make it through the invisible net that surrounds our little island, filtering out all the music considered too 'euro'.
At this point we've been invited to some exciting backstage press event going on behind the Xavier Grall stage. So we're in the 'loge' and there's a lot of intimidating 'serious press types' with mega camera equipment and we're not quite sure what we're here for but there's free beer and that's all that matters. Plus it's reggae day at Xavier Grall so we get to listen to the smooth jams of
Bitty Mclean
who I hear had a big hit in 1993 but back then I was listening to 2 Unlimited and Ace of Base so I wouldn't know. Talking about being big in the 90s, also in the 'loge' with us are French dancehall act
Raggasonic
. Earlier in the day I caught the end of their press conference (story goes they split in '98 and this is their big reunion), and one of them was smoking a cheeky little doobie so there is a brief discussion about whether we should try to get in with their entourage in hopes of some wacky-backy. We scrap the idea when we come to the conclusion that as girls we might have to compromise our morals, which we are most certainly not prepared to do because…oh nevermind, we were just too chicken.
It's been over two hours, so we really must shovel another round of food down our keghole, which we do to the accompaniment of
Julian Casablancas
. I'm unimpressed. As one of the boys remarks, it's only good when he's playing Strokes songs but even that leaves me cold. What's the point of going solo if you have to rehash your stupidly successful band's songs to keep the crowd pleased?
As the festival closes to the sounds of Jay Kay et al, we have a day to kill before getting back on the Brittany Ferry to Plymouth. We're in Roscoff, there's a whole of oceanful of seafood we must still consume, plus a selection of mini deserts that includes a tiny cake whose recipe we have deciphered as thus:
500g of butter
500g of sugar
1lt of butter
1lt of sugar
20 tbsp of butter
20 tbsp of sugar
50 tsp of butter
50 tsp of sugar
a pinch of butter
a pinch of sugar
butter and sugar to taste
Delicious.
But I am now officially fat.
A bike ride around Ile de Batz, a precious little island just a mini boat ride away, offers up the chance to work it off except that on our return we head, like raging food fiends, to the best crepe restaurant in town. Luckily the ferry journey is not as vomit-friendly as the last, but sadly there's no ferry disco. However dirt cheap Pina Coladas with pink anchor decorations are provided so I'm adequately amused until bedtime.
Highlight of the day:
Rivalling
Etienne De Crecy's
Beats N' Cubes lightshow with a spectacular display made out of free glowsticks.
Photos courtesy of David McKenna & Pierre Iglesias