MEN @ The Lexington, London 08.02.11
Brooklyn-based "band and art/performance collective" MEN, the colourful and energetic new project from the brilliant Le Tigre's JD Samson, play a defiant mix of punk-disco and electroclash with playful pop sensibility and poignant political sentiment. Having released debut album 'Talk About Bod' on February 1st, the group play the first show of their European tour to a sold-out venue of incredibly pretty punters, breaking the barriers of English conservatism in the most important way possible.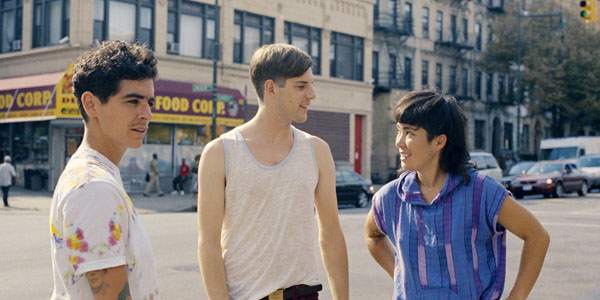 MEN
are firm believers in "the radical potential of dance music", the most effective musical medium for creating unity and spreading positivity. This was immediately apparent; even before entering the venue an excited fan turned, wide-eyed and full of smiles, and asked us, "Are you as excited as I am?!". There must have been a lot of planning during the band's creation to concoct an accessible formula that cleverly balances the danceable aspect of the music with liberal political lyricism, and this is something that is rarely delivered effectively; the line between musical 'sincerity' and 'insincerity' is so fine that you would expect to either end the process with a dance album or a protest album, but seldom both.
After reasonably enjoyable but unnecessarily aloof support band Plug, MEN promptly arrived on-stage in suitably gender-neutral, minimalistic outfits and treated the audience to a set consisting of every track from the album. The sheer band enthusiasm was more than enough to effortlessly extract movement, smiles and singing from almost everybody.
First single 'Off Our Backs' was perhaps the set's strongest commercial moment, and was performed with camp confidence and conviction, whilst the affectionate 'Simultaneously' shone musically and sensually, aided by JD's infectious grin and endearing dance moves. Forthcoming single 'Who Am I To Feel Free?' was perhaps the most brilliant and overtly-political number of the set however, with candid and inspiring lyricism such as, "Radical surgery, prosthetic sex, we built this world and we are asking your best".
In an age still shit-scared of its own shadow, MEN are a genuine breath of the fresh air. In the Western world, we are incredibly fortunate to live in an age of political liberty, but still suffer on many levels from societal misunderstanding, and so it seems just as important as ever before that a band, especially a band this incredibly
cool
, are still performing music with a non-disguised LGBT agenda. Sure, we have LGBT pop stars coming out of our ears, but how many are actually performing music that LGBT persons can
relate
to? Very, very few is the sad but honest answer.
When one finds a band who, in true punk fashion, live their art, it is a fine and beautiful discovery. In a fairly recent interview with art/music publication Amelia's Magazine, the interviewer asked JD what MEN's tag-line would be, if indeed they had one. JD's answer, which sums up the very essence of MEN to a T, was simply, "Humans can be whatever the fuck they want".
Our new favourite anything.
MEN play Heaven in support of their new single "Who Am I To Feel So Free?" with Sleigh Bells. The gig, and the single release, is on February 14th. MEN's debut album 'Talk About Body' can be purchased via iTunes and Amazon now.