Marriages @ Hoxton Square Bar & Kitchen, London 01.05.15
Brilliant performance by the Californians in their first London appearance.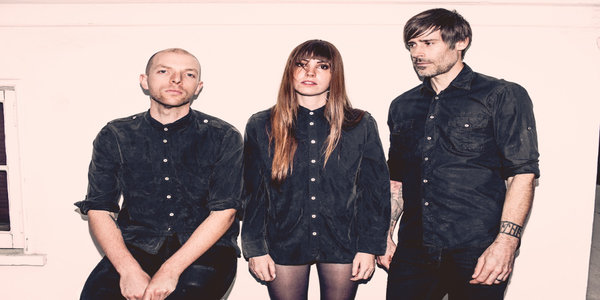 Marriages'
recently released first LP
Salome
(
review
) is definitely not an easy one to reproduce live: the delicate balance between vocals and instruments and the sense of space that dominates the record could easily be lost on stage. Or at least that would be the case if Marriages were one of those bands whose talent disappears as soon as they step out of the recording studio.
But being a spectator of one of their live performances is the confirmation of the exact opposite. Seeing the roughness and the dreamy atmospheres of
Salome
taking life in front of our eyes with the same intensity as they did on record is a magical experience and pushes to an even deeper level of appreciation of the LP itself.
London welcomes the LA trio in a venue that seems made for them: Hoxton Square Bar & Kitchen's dim lights and natural reverberation create the perfect environment for Marriages' combination of shoegaze, stoner rock and pop.
Support is provided by the London based band
Violetic
, with a specular guitar- lead vocals, bass and drums formation and a similar music style to Marriages. Their stage presence could be slightly refined, but the performance is nonetheless enjoyable, showing good potential, especially with some interesting bass/guitar harmonies and well-executed dynamic changes.
It is now time for the headliners to take the stage, opening in a blast of energy with the first track out of their previous EP
Kitsune
, 'Ride In My Place'.
After following with another extract from
Kitsune
, 'Ten Tiny Fingers', Marriages switch to their most recent works, with the raging choruses of 'Southern Eye' and the captivating melodies of 'Santa Sangre'.
A long, almost ambient sounding intro precedes 'Skin', whose guitar riff's first notes are loudly greeted by an enthusiastic crowd.
Finally, after the enthralling whispers and ferocious distortions of 'Salome', Marriages close with 'Part The Dark Again'. The audience is completely hypnotized by the emotional finale, to the point that when lead singer Emma Ruth Bundle momentarily moves away from the microphone (on purpose) her voice is still clearly audible.
Through the entire set Marriages don't speak more than just a few words to the audience, and there is absolutely no need for more: their performance on its own creates a sort of parallel universe in which the band and the crowd are automatically joined together. Considering the band's ability to create this type of atmosphere, together with a technically perfect execution, it's not an overstatement (but it is a huge compliment) to say that seeing them live is as precious as listening to their records.