Iron and Wine @ The Roundhouse, Camden 08.03.11
Holed up in the circular cavernous innards of Camden's Roundhouse, Iron and Wine embark upon the first night of their UK Tour. Supported by the excellent Daniel Martin Moore, the general level of beardy bonhomie is slowly rising with the heat generated by the expectant fans.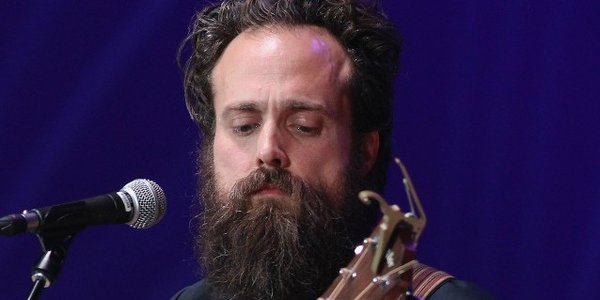 Tonight, the
Iron and Wine
name houses 7 musicians alongside Beam himself. Rosie Thomas takes up backing vocals, with Stuart Bogie encompassing the wind section, Matt Lux playing percussion to support Ben Massarella's drums, Joe Adamik on guitar/banjo and the odd number on the ukulele, and Nick Luca on the keyboard. The expectant crowd bestows a hale of cheers and applause as instruments are donned and Sam begins his beguiling banter. "I have a bit of a cold", he sniffs, before apologizing and asking how we all are.
It is not usual for the chat to begin this early (if at all), but Beam is not the usual front-man. Softly spoken and easy going, it is certain that more than half the audience is expecting an ambient jaunt with little effort required on their part, though Beam's releases have been growing steadily more rowdy since his most ambient debut
Our Endless Numbered Days
. Opening with 'Boy With a Coin', it is clear this is not the case, as the sound resonates through each eardrum, and the full weight of the eight-piece is laid upon us. Exorcising the electro-synth laden upon newest album
Kiss Each Other Clean
, there is a fresher, more natural sound, with an eloquent creativeness that is so enjoyable to watch. Though the tour is built upon this release, only five tracks from the record are played, 'Me And Lazarus' and of course single 'Tree By The River' being the ones that garner the most applause.
These tracks are the loudest on the record; faster paced 'big-band' concepts that lend themselves fantastically to the vast number of musicians on stage. With Bogie's sax skills taking the fore in large sections of numbers like 'Your Fake Name is Good Enough for Me', the melodic delivery alongside Sam's silky smooth vocals (despite his ailing health) is buoyed up by Rosie's beautiful harmonising.
Between numbers, instruments being exchanged and tuned, Sam's lasses-faire tone breaks with his sharp wit. The increased bonhomie tears down the stage divide, he responds to everything he hears, leading to questions perhaps best left alone. "F*** a Wookie? Why would I do that? You guys are weird…. But I like it" he quips. Riffing off heckles, screams and shouts, settling on one over-excited audience member long enough to respond, "Hey is that your favourite chord? Woo! Let's hear it for D! That's for you buddy", the crowd are laughing, and not in a sycophantic way, but because he is funny!
Slowing the pace down with older tracks like 'Lions Mane', the skillful and achingly beautiful lyrics that coloured Beam's early work are brilliantly highlighted, now re-imagined by the array of instruments. Utilising the oboe and banjo for this number, 'Wolves' from
The Shepherds Dog
is given a long and indulgent instrumental, sending all those observers into a mini trance of reverie. These musical meanderings are prone within the set. The product of such a wealth of talent, it makes for a vast scenic change, calmer moments making way for beautiful and violent shifts, 'Cinders and Smoke' eloquently harnessing reedy flutes and deep rolling drums to counter the elongated choral cries from Miss Thomas and Mr Beam.
The encore rolls around too soon, in a hail of stellar strings and thunderous percussion, Becker's bass being played to a fraught perfection. It is a wonderful sight to see a man lose himself in a moment of abandon with his audio weapon! Returning with a down-sized quartet of himself, Adamik, Thomas and Luca, the first strains of the gorgeous 'Naked As We Came' are plucked out on Beam's acoustic strings, and an almighty cheer greets the tune. After three minutes of pure heaven, finishing the beautiful set with an overwhelming request to introduce his lineup, Beam commends the audience; "It's good you want me to introduce the band. Usually it's like 'Lose the band!', I guess you guys are coming around to them." Most certainly, Mr Beam! And if the tour continues to be as spectacular as tonight, there are going to be many more big-band converts in our midst!