Gogol Bordello @ O2 Academy, Glasgow 15.12.13
Gypsy punk band on scorching live form in Glasgow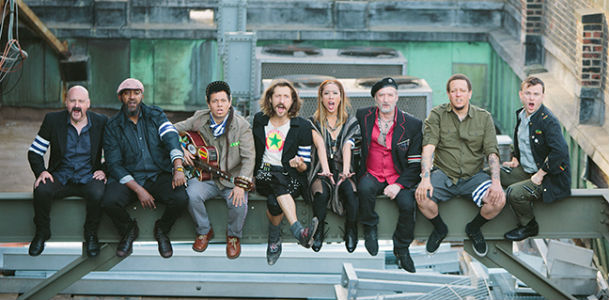 Gogol Bordello. The name is as representative of a band's ethnic and ideological background as you can get. "Gogol" taken from the Ukranian-Russian writer, Nikolai Gogol, and "Bordello" referring to a gentleman's club in Italian.
Together, they are an eight-piece wonder of cosmopolitan theatrical raucousness, stitched together from ethnicities all over the world - Ukraine, Russia, Ethiopia, Belarus, USA and Ecuador. The final piece to this genealogical mosaic is dancer/singer/percussionist, Elizabeth Sun (of Chinese descent) who was born in another exotic part of the globe – East Kilbride. It is therefore a fitting doff of the cap to Glasgow that
Gogol Bordello
chose the city as the final leg of their UK tour tonight.
The atmosphere at O2 Academy is electrifying. With the venue's standing capacity of 1776, the evening looks close to a sell-out with the downstairs area bulging at the seams with a diverse crowd of varying aesthetics from the average specky gig goer in t-shirts to men in fancy-dress gypsy outfits, sporting proud handlebar moustaches.
The lights dim and the band take to the stage to an ecstatic reception before launching into the opening track, 'We Rise Again', from their new album,
Pura Vida Conspiracy
. With its celebratory shanty style instrumentals and Borat accented lyrics delivered by lead singer Eugene Hütz, it is perhaps the perfect track to warm the crowd up with its sing-along infectiousness. The next song, 'Not a Crime', starts with a heavy guitar riff, a nod to their punk origins, before exploding into a mosh-tastic eastern European medley of violin, accordion and mandolin, sending the crowd wild with their flying plastic pints. The baptism of fire has only just begun.
As the band scorch through their set with songs such as the highly charged, 'Wonderlust King', and the more mellow, 'Dig Deep Enough', you realise that the band are old hands at entertaining the audience, playing them like an old fiddle with their signature stop-start tempo and alternating emotional landscapes. Whilst the rolling, frolicking banter is provided by tracks such as 'Trans-Continental Hustle' and 'Immigraniada', the contemplative moody acoustics are served up, complete with melancholic harmonica and hillbilly strumming from 'When Universes Collide', whilst a stripped back version of 'Alcohol', has melodies falling like tear drops from plucked violin strings.
Finally, as an encore, the band returns to the stage with not one but five songs to quench the blood-thirsty crowd. The most notable track was the cover of Strangler's 'Nice'n'Sleazy' which was introduced as a tribute to "that famous pub on Sauciehall Street." It is a dub-bass treat, full of bouncing rhythms and blistering chords which set masses of sweaty heads bopping in appreciation.
For such ingenuity alone, we salute you Gogol Bordello.