Glen Hansard @ Shepherds Bush Empire, London 21.10.15
Under-rated Dublin singer-songwriter turns in barnstorming set at a sold out Shepherds Bush Empire
Oct 21st, 2015 at Shepherds Bush Empire, London / By
John Dineen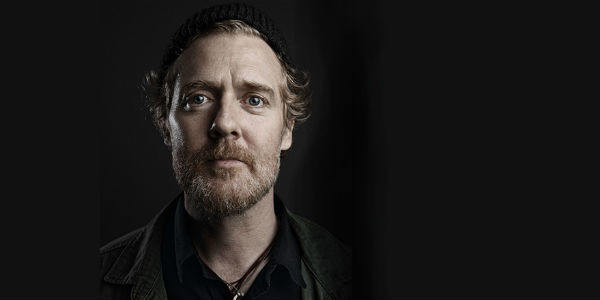 Glen Hansard
has enjoyed a much storied, picaresque career. From teenage busker, through indie-rock stardom (The Frames), to flirtations with film (
The Commitments
and
Once
), through songwriting double act (The Swell Season) to his current incarnation as a solo artist. The one consistent in his varied career has been the brilliance and intensity of his songwriting which as a solo artist is now unencumbered by the distractions of collaboration and different mediums. This isn't to diminish his backing band, who whilst diligently serving the song and the singer, are magnificent in their own right.
The intimacy and inclusiveness of the Shepherd's Bush Empire is the perfect venue for Hansard's songs which have that magical quality familiar to fans of Dylan, Mitchell, Young or Morrison whereby they simultaneously feel universal and personal to the listener. This sense of communion is apparent from the opening track 'Grace Beneath the Pines' a gospel tinged hymn and stand out track from his new album
Didn't He Ramble
. The opposite of the typical barnstorming opening track, it draws the audience into Hansard's emotional landscape with its bold intimacy. Hansard follows this sombre opener with the celebratory 'Winning Streak', another new track that showcases not only the emotional breadth of Hansard's songwriting but also the versatility of his band.
This has to be most talented backing band he's assembled yet from Earl Harvin's sensitive but powerful drumming through to Ronan Dooney and Curtis Fowlkes' astonishing New Orleans style horn section. Special mention should also be made for pianist and vocalist Romy who ably covers Marketa Irglova's parts on the various Swell Season songs performed. This is apparent early in the set with a hair-raising performance of
Once
favourite 'When Your Mind's Made Up' which leaves much of the audience in tears of joy.
Whilst much of the emotional impact is a result of the quality of the songs, it should also be noted that Hansard is such an engaging and charismatic frontman that it is difficult not to be dragged along with the euphoria. His rambling introductions to songs are both genuine and charming, and feel like listening to a particularly witty friend in a pub. The hilarious anecdote that introduces 'McCormack's Wall' almost overshadows the brilliance of this new song.
Aside from the quality of his band and his stagecraft, it should not be forgotten that what really makes him such a mesmeric performer is the incredible intensity of his vocals and guitar playing. A quality honed during his years busking, Hansard is never too cool to give less than everything to every song. This was brilliantly illustrated when on completing the main set, Hansard suddenly appeared on the balcony amongst the audience and performed the first encore completely acoustically. Busking the Frames classic 'Say it to Me Now' to hysterical reactions from long time fans its hard to imagine many other songwriters performing with such bravery.
On returning to the stage he conducted a thrilling and emotional sing along to his Oscar winning classic 'Falling Slowly' before turning the whole venue into a choir with an incredible a capella performance of Brendan Behan's classic 'The Auld Triangle' with each band member taking a verse and the audience bellowing the chorus. A quite uplifting communal experience a million miles from the clichéd stadium sing-along.
Without doubt this was an outstanding gig from one of our most undervalued songwriters and performers and an inspiring reminder in our ever artificial world of the emotional power of musicians performing with authentic, passionate honesty.