Esmerine / Eric Chenaux / Olan Mill @ The Cube, Bristol 13.05.12
Long may the relationship between Constellation Records and The Cube continue; last year they lent us Siskiyou for a night, now they've only gone and flown us over Esmerine (part Godspeed You! Black Emperor, part Thee Silver Mt. Zion, part earthly paradise) AND Eric Chenaux – who is the best kind of surprise one could hope for – in the role of supporting artist. Canada has long been one of the world's musical superpowers; that such diverse talent as this resides on the same label is testament to Constellation's love for music. That we get to see such talent time and again in a small independent cinema in the west country is part of the distinct upside to globalisation, and too, a fruit that never sours.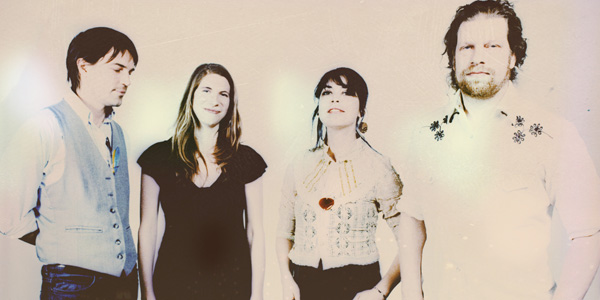 First up though some homegrown talent.
Olan Mill
is the sombre, winter project of Alex Smalley and Svitlana Samoylenko. Live tonight though, it is a four-piece contemporary classical scene-setter, with piano, samples, keyboards, guitar and violin. Some sound issues disrupt their ultra-smooth, ambient vibe a little, but after a few nervy moments equilibrium is restored, and a generous, hungry audience receive a settling, contemplative set which commands respect. This music is hard to pin down, and though it takes itself very seriously, it is undoubtedly composed and performed with great care.
Eric Chenaux's
very being is all that stands between the unspoken truth, the holy grail, the light at the end of the tunnel; and us. Yet this playful troubadour is the joker in the pack, the Peter Pan figure, and the travelling merchant, with a glint in his eye and a story to tell. Chenaux opens up with signature guitar moves, twin wah pedals folding tone into tone, as he lets loose jazz scales from his Gibson semi-acoustic, whammy bar always at the ready for accentuated swoops and dives. He has various other pedals in series, off to one side, triggered from a single switch at his feet that create sustained harmonised frequencies, allowing him to play over his own progressions without the aid of a looper, it's clever stuff, but you wouldn't know it, for it comes as naturally as breathing to this man. With Chenaux still jamming away, he gifts us the serendipitous tale of his love-at-first-sight for a French woman, and his debt to a Bristol lemonade stand; complete with the happy ending you wouldn't dare make up. If there's anyone that's yet to be won over by Chenaux, he then gifts us his singing voice and we're all suddenly in love with the man. For Chenaux is a vessel for all that's good about the twin arts of singing and songwriting; his latest record
Guitar & Voice
demonstrates his purity in the field, and live, he lets his talent flow over you like the bejewelled waters of a sun dappled stream. Switching between acoustic and electric, or 21st and 14th Century, never is the flow interrupted. If only we had a few more Chenaux's in this world, we perhaps wouldn't have to suffer the James Blunts.
Ha, and yet the night is still young.
Esmerine
, oh Esmerine, the one thing our dreams are lacking is a soundtrack by you. Close your eyes, they're painting colours in your mind, wait, colour becomes form: A path through a garden thick with life, a snow-covered landscape, ripples in an alien lake, glyphs that have meaning only to you, only in sleep. Wait! You're awake and watching marimba magicians dance notes down your ear wells, crystalline beats overflowing with pure feeling, married with plucked and bowed strings that feed a hunger you did not know you had. Hypnotic and mesmeric both, Esmerine have successfully constructed a priceless ornament of experimental post rock, chamber music and modern classical, that's held together with some roots-y glue – purchased in the last shop before the Arctic circle, and a passion and belief that glows as brightly as the stars do there.
Godspeed's Bruce Cawdron (drums, percussion) formed Esmerine with cellist Rebecca Foon (SMZ) a decade ago in Montreal. The current touring line-up also sees Jamie Thompson add more percussion – which really is this set's keynote, its backbone – esp. struck and bowed marimba, Brian Sanderson, who is at ease on baritone ukulele, violin, trombone, and bass guitar alike, and Clea Minaker, who projects her live, light table art onto the cinema screen behind the band. It's a step further than other bands would go, and this rather highlights their confidence, self-belief, willingness to take a risk, and attention to detail. Outside of their other projects, Esmerine simply don't have the numbers of peers that high-ranking bands from other genres would have. Empowered by this, and driven by pure talent, they have recorded three very fine albums indeed. Tracks from their latest, 2011's
La Lechuza
are rightly given prime billing here, and seem to carry extra weight, due to their subject matter. The death of a friend is often an understandable reason for a group's music to turn funereal in nature, but the thought-provoking oriental scales and exquisite rhythmic patterns are nothing if not celebratory. Band favourite, 'Why She Swallows Bullets and Stones' from second LP,
Aurora
is another of tonight's highlights. Wait! Everything about this set is a highlight, every note, every tone, every individual, and all of them together. This is a band to cherish, and a night to remember.