Edward Sharpe & the Magnetic Zeros @ The Old Vic Tunnels, London 13.03.11
Edward Sharpe and the Magnetic Zeros concluded their string of five shows in the heart of the vast underground labyrinth that is The Old Vic Tunnels on Sunday night. Curated by the band themselves, the event was a haberdashery of audio and visual wonderment: Psychedelic spacesuit clad performers greeted guests at the arched doorway offering space sweets, and "searching" surprised passersby. While Les Enfants Terrible, a trio of deranged, burlesque girls contorted their way around the vaulted venue in a both grotesque and hypnotising manner. One pocket of the tunnels was screening a psychedelic Western with a four piece band providing its subtle, Hispanic soundtrack while at another, a Texas themed saloon bar offered beverages and momentary respite from the mayhem.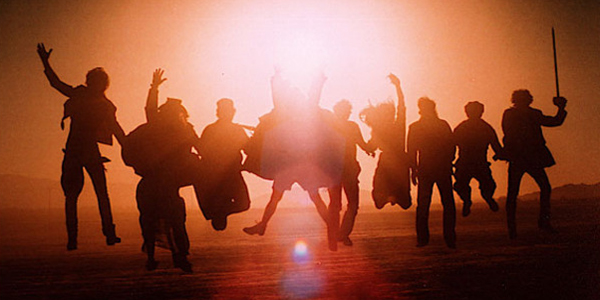 For all the surprising elements of the event it was not unlike a thing for the dectet to coordinate, given their acclaim since 2009's release
Up From Below
. And so such an underground location and surrealist dreamworld presented by the cultish hippies was really not out of the realms of possibility for a band blessed with such a strong cult following. In parting the crowd - which felt doubly as large as on Wednesday's opening night - the ominous yet pitch perfect whistling of 'Janglin' allowed for the band to ascend their pedestals via the 500 strong, sell out crowd and catapult into a set comprised of tracks from both their
Here Comes
EP and debut releases. The choruses of singing from the stage, met with the same fanfare of vocals from their listeners for the entirety of the set was rapturous and rare, enveloping all in a body of joyous voices. '70s borrowing in their musical stylings the Magnetic Zeroes' musicianship excelled on stage as on record, especially when considering how many members there are to coordinate, comprised also with the all too laid back attitudes of the ten-piece. And yet somehow everything came together through this combination of euphoria and ease of mood, a success achieved ultimately from the sheer joy of their performing.
Performing it is; Alexander Ebert, exuberant frontman professing "You make me wanna take my shirt off" while removing a fur-lined floor length overcoat - in such a way that is almost ritualistic in the manner executed, as if it is the opening act of the grand show, the unveiling of a great showman whom it is difficult to divert attention from throughout. At points he eulogises, monologues and banters with the crowd, and later allows them to take part, offering the microphone amongst the front crowd members for them to go off on tangents about near death experiences, or more simply just say thanks for the tickets! From 'Up From Below', a song about mortality masked in a power pop, trumpeteered formula, the transcendental 'Carries On', to exquisite folkster closer 'Home', the song by which they are best known, the evening illuminated all pockets of their songwriter influences: Neil Young's screeching harmonica on 'Black Water', to twinkling Springsteen-esque piano and psychedelic interludes ('Desert Song'), filling the spaces between hoe downs and moody instrumental ebbs.
Edward Sharpe isn't really Alexander Ebert, frontman of the 'family' before us, leading us on some metaphorical hippie mecca. Edward Sharpe is probably, certainly, everyone in that band and everyone in the crowd, everyone who has ever found some joy in their music, for there wasn't one person observed who wasn't wrapped up in the experience; elated and singing. To see the Magnetic Zeroes is to be part of a collective, interactive experience and that was what the Old Vic Tunnels series was about. The end of the affair saw promises of "milk and cookies and more songs outside". All was promised under the canvas of graffiti tunnels behind Waterloo station as Ebert sat cross-legged amongst throngs of followers, singing out healing covers of 'No Woman No Cry' and 'Lean on Me', before a van trying to make its way past the bodies sprawled across pavement and road left the band running off into the distance, leaving everyone in a whirlwind of ecstasy and perhaps wonder that it wasn't all just a (40 Day) dream.