Billy Bragg and Joe Henry @ St George's Church, Brighton 10.11.16
Billy Bragg and Joe Henry take their recently acclaimed LP Shine a Light: Field Recordings from the Great American Railroad to the stage with sparkling results
Nov 15th, 2016 at St George's Church, Brighton / By
Norman Miller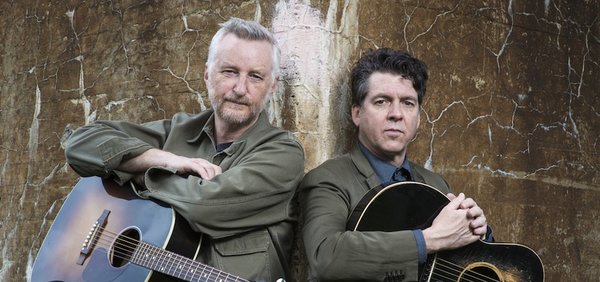 In March 2016
Billy Bragg and Joe Henry
, guitars in hand, boarded a Los Angeles-bound train at Chicago's Union Station looking to reconnect with the culture of American railroad travel and the music it inspired. Winding along 2,728 miles of track over four days, the pair recorded classic railroad songs in waiting rooms and at trackside while the train paused to pick up passengers.
And here in one of Brighton's loveliest venues, they share a feast of songs from the marvellous album they made from that trip -
Shine a Light: Field Recordings from the Great American Railroad
.
The songs range across several decades – complemented by reflections and commentary in between each number that are as often engaging and powerful as the music.
As well as the shared railroad-based material, with its powerful tales of yearning, loss and hope, each man also plays a short solo set of their own material. Which is both quite different but also complementary, coming from the same sort of place in their hearts but delivered with contrasting musical styles – Bragg's gruffer, more rough-edged delivery versus Henry's more polished higher register mellifluousness.
Opening the set standing beneath a giant depiction of Christ on the cross, Bragg's first words are a deadpan "Dearly beloved" that warms a crowd who probably would believe it if he and Joe took a stroll down to the nearby beachfront to walk on the water.
Even though many of the songs are unfamiliar in themselves, numbers like Gentle On My Mind or The L&N Don't Stop Here Anymore make you want to go on a journey of musical discovery. You recognise the emotional and lyrical power of the numbers, and it's great to hear the sincerity with which Bragg and Henry name check folk like the mighty Lead Belly and the often under-rated Allen Toussaint – plus hugely influential skiffle man Lonnie Donegan.
There's a moving delivery of Jimmie Rogers' Waiting For A Train, framed by a story of how they had recorded it in the famous Room 414 at the Gunter Hotel in San Antonio where Lead Belly recorded some of the best of his criminally small output.
And just to show it isn't all about nostalgia, there's an intense offering of
Anais Mitchell'
s modern classic Why We Build The Wall, which seems set to become an anthem of post-Trump protest.
Bragg brings joy to a packed crowd with a heartfelt delivery of Between The Wars in his set, and by the time the duo swing into a rollicking Rock Island Line it's clear this is one journey no-one is happy seeing come to an end.
Billy Bragg & Joe Henry Links