A Hawk And A Hacksaw @ The Harley, Sheffield 05.08.10
As a virgin to the Harley, it proves to be a pleasant joint with an old, tattered Hammond organ in the corner of the bar - with their slogan of being "A Non-Profit Disorganisation" proudly slapped up on the doorway.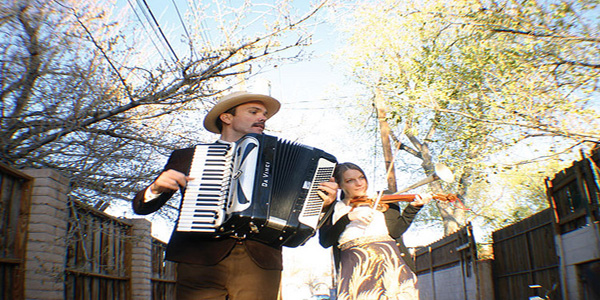 Some keen looking, beard-stroking types are here tonight to witness
A Hawk and a Hacksaw
- in full steam since their last UK tour last June and the
Délivrance
LP. Their new outing
Cervantine
is the exclusive merch at these shows - an octet of hypnotic ethno-folk masterpieces from a quintet of serious musicianship, lo and behold.
Support comes from
The Big Eyes Family Players
, who will be recognizable in future by a few points of duly noted ridiculum. An eagerly dressed gypsy-cum-buccaneer bassist dances with feet together, bopping back and forth - like Mr. Bean would dance in fact. He also attempts to play keyboard at the same time, to which the words 'monkey' and 'twig' are brought to mind. A Grizzly Bear-esque guitarist moans about the feedback while his washy effects nod to the 'Bear a bit too much for the savvy fan's ear. A drummer outlines his ineptness at justifying a full drum kit and the harmonium player looks like she's patiently waiting for an interview as a secretary, looking down into her briefcase-looking organ, that you can't even hear. In a nutshell it resembles little more than one of those tedious music therapy sessions and ultimately the most exciting part was when I burped some beer and it came up through my nose. Decent enough flautist, mind.
A Hawk And A Hacksaw
care less for a drum kit. Their line-up this time round is Jeremy Barnes on the squeezebox, Heather Trost on the violin and the magnificently titillating Stroh-violin (Google it, go) while accompaniment includes trumpet, bouzouki, and the doumbek, a small drum with a giant scope for sounds – more than enough to get the crowd grooving and gyrating in 7 time. Barnes: "This song will be in 7 - if you dance in 4, we're going straight back to New Mexico". Playing nearly every track from
Cervantine
, they illustrate a much broader and mature interpretation of eastern European folk, with less relentlessness and a more sympathetic approach to the instrumentation. Tunes from
Délivrance
are donned, namely the folk chant 'I am not a Gambling Man' and opener 'Foni Tu Argile' to which a sax player from up Leeds way joins in, applauded by what seems like quite a brass-hungry audience.
A lot more banter between songs towards the end as the frontman jokes that "You lot [Sheffield] gave us the Arctic Monkeys, but we forgive you!" and reminisces cockily about that moment in the England v USA match. You wonder where they find musicians of such calibre, the bouzouki extraordinaire for example - err, Bradford. All intertwine perfectly, leaving the wowed hundred odd yelping for more amidst the collective reak of Balkan dancefloor sweat. A midnight finish and a pack of Lobster crisps for the win. Exotic times.
A Hawk and a Hacksaw Links