Interview: Josh Ritter
The American singer/songwriter takes time out from his latest Irish tour dates to talk to David Brown in a Chelsea bar while they wait to hear if they've been picked to play for the first XI.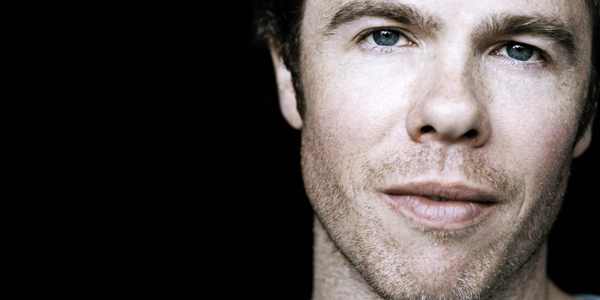 Josh Ritter has never forgotten where he got his first break, so it came as no surprise to learn he was doing a series of live dates in Ireland. Ireland is where he will often be found presenting the initial leg of a tour or perhaps giving them the first chance to hear a new album. During a brief break between appearances, he came to London for a couple of days in July to take part in some interviews.
He was staying at a hotel in the shadow of Chelsea FC, Stamford Bridge, but we decided to cross the Fulham Road to take refuge in a shady corner of The Butcher's Hook bar. This required a brief introduction for Josh to the world of Cockney rhyming slang, but hopefully his next recording project will not explore this!
Quickly making ourselves at home at a scrub topped table, with drinks at the ready (it was a very hot day) our chat soon flowed just as easily. Josh is a very casual, humble guy, proud and rightly pleased with his achievements, still in awe of the fact that he can conceive and perform his music and be appreciated by a growing number of listeners. He is also aware that not everything necessarily lasts for ever and that you have to make the most of what you have when you have it. He still has a sense of wonderment about what has happened to date and a deep gratitude to the people who have helped make his achievements possible. Behind those boyish good looks is a thoughtful and thought-provoking artist, working hard to do his very best for both himself and his audience. A singer/songwriter who has been mentioned in the same breath as Dylan, Cohen and Springsteen can sit and happily chat in a Chelsea bar while the world outside goes about its business.
It was in Ireland in January 2001 that Josh truly realised what he had to offer while singing at Open Mic nights and his love for performing his music to live audiences grew from these small but important beginnings.
"At that time I just wanted everything in the world," he says. "It was just the right time for me to be there. There was a great Dublin scene, everyone has a chance and the people were generous and gracious. It happened for me first in Ireland. I will never forget that."
From being up there on his own performing to a small audience at Open Mic nights, this year Josh sold out the 2000+ capacity Grand Canal Theatre, Dublin, when he toured in support of his most recent 'So Runs the World Away' album. Of course, he chose to start the tour in Ireland before taking it to his native America. The record was released in Ireland on 23rd April, 2010, and 4th May in the rest of the world! A vinyl version of 'So Runs the World Away' had been issued on 17th April as part of National Record Store Day.
Just prior to coming to Ireland for the latest series of dates, Josh had experienced working with the Minnesota Orchestra in Minneapolis.
"It was like standing inside a piano," enthuses Josh. "You're on stage with 100 musicians and I just had to remember my words! It is radically different to being on stage with the band. We'd only had one rehearsal, playing for about an hour and the members of the orchestra are there reading it straight from the first downbeat. I must admit it felt a little uncomfortable at first, but the music takes over and you start to enjoy the experience."
These days he tours as Josh Ritter and The Royal City Band, with musicians he has worked with closely over a period of time. "Some for ten years and nobody less than five," he explains.
"We've developed into something of a pack. Musically it feels telepathic at times and even when we're not on the tour bus together, no one is more than 8 inches apart all the time!"
When Josh and band appear for six UK dates in September, the 'guest' act is Dawn Landes & the Hounds. This marks another close relationship as Dawn and he got married a couple of years ago.
"She's an amazing singer, so talented," Josh says. "We met when she was recording me for a Hank Williams tribute album. A few years later I saw her at the 'End of the Road' festival over here and she was singing a song called 'I Don't Need No Man' and she was just awesome!"
So, he married someone who was singing 'I Don't Need No Man'? "She still doesn't!" he laughs.
Because of their similar working environments it means that they are very aware of each other's lifestyles. "Both of us grew up on just travelling and playing – it would be weirder if we both sat at home all the time."
Home is now Brooklyn, New York, where Josh moved from his native Idaho two and a half years ago. It was a change of culture, but in many ways a welcome one for him as he admits to having suffered a writing block for about a year. Now the museums and libraries of New York open up numerous opportunities to kick start his furtive imagination and quest for storytelling.
"I'll travel from Brooklyn up to Central Park and just walk around and you will feel like you're seeing historical things," he says. "From this grows ideas for characters, glimpses of good things that can happen to them together with hints of the dark things in between."
It comes as no great surprise to learn that Josh Ritter is about to add novel writing to his list of achievements with his first book, 'Bright's Passage' due to be published next summer.
"It felt like a rest from writing songs," he explains. "It was another different experience, more solitary than working on an album, but it was exciting and I can tell I'm going to do it again."
Working away in his kitchen, Josh meticulously wrote draft after draft until he was completely happy with what he'd written. The same careful control of his song writing has seen many titles sidelined in the pursuit of the right words and music his six studio albums to date chronicling what he feels are the best he has to offer.
Born in the city of Moscow, Idaho in 1976, Josh experienced little music until he was 17.
"I heard 'Sgt Pepper' and 'Gracelands' but the people behind them didn't seem real to me, more like cartoons," he reveals. "I didn't go to shows as they didn't seem to come our way."
Famously, it was hearing a track on his parent's copy of Bob Dylan's 'Nashville Skyline' album that started his true interest in music and opened up the world of possibilities to him. The stark simplicity of Dylan and Johnny Cash singing 'Girl from the North Country' together (though definitely not in harmony!), was the spark that lit the fuse.
Equally as famously he went out and bought a guitar at K-Mart, the American supermarket chain. When I enquired whether they now sponsor him, he joked back: "Now things have got that I might support them!"
He never saw himself as covering other people's music or styles, choosing to write his own material from the start.
"I didn't really know what I was shooting for then," he said. "I wrote a list of goals down – in a legal manner. I have achieved so much right now. Success can be fleeting, but you have to do what you enjoy doing. If I was not writing I don't know what I would do."
Josh went to Oberlin College to study neuroscience (his parents were neuroscientists), but switched to studying American history and its native folk music. While at college he recorded his first self-titled album and, after graduating, moved to Scotland for six months to the School of Scottish Folk Studies.
"I loved the old songs by the likes of Jeannie Robertson and Ewan McColl and you are hearing some of the roots of American music," he said. "In American music writing there has been a lot of moralising, it's like they can't help put a moral on the end of the song. I can't stand that. It's not like that in the Scottish folk songs they don't tend to have happy endings. It's like 'the baby falls down the well' – end of story!"
Upon his return to the States, Josh did part-time jobs while performing at any gigs on offer and hopefully selling a few copies of his album along the way. During this period he met up with Glen Hansard of The Frames, who invited him back to Ireland with them. He supported them at some of their dates and began appearing at those fateful Open Mic nights.
While the song writing and recording process is obviously the keystone to Josh's growing success, his live performances continue to break new ground and offer additional insight into his thoughts and aspirations.
"The world is so connected now," he says. "You can put a song out in the afternoon and they're hearing it in Montana that same day. Music is so readily available.
"When you're performing live you are a chef offering things off the menu. You can't always offer everything, but neither can you expect people not to want to hear their favourite songs."
Performing live continues to offer Josh challenges.
"When you go on stage it is like you are starting a conversation with your audience. You have to find that path into the show, it can take a while. Any little incident can start it off it might be a screeching seagull flying by, anything. It can take a while to establish that path, but once you've found it you can start to feel more comfortable with the performance. The crowd have paid money to see you and taken time off from their day to come to see you and I'm always grateful and aware of that.
"Sometimes I feel that a musician is like a boxer, you and the crowd are moving around each other trading little jabs at each other, establishing yourselves. There's something in the air."
So, Josh Ritter is a singer/songwriter, performer, writer, sometime chef and occasional boxer. A hard working musician who wants to give his all in exchange for the loyal support he has received so far. Early autobiographical themes and fantasies taking off from there have moved into a broader perspective with the whole of history at his fingertips and a multitude of ideas in his mind.
"I don't want to stand at the microphone and talk about my problems," he says. "There are huge adventures happening in my head."