Worry Party - To Our Ill Health (self-released)
Lots to be excited about with Worry Party, even if we haven't quite figured them out yet.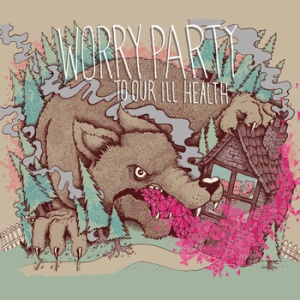 Hailing from Newcastle –
Worry Party
comprise of members Steven Chell, Kris Brunsden and Paul Hawdon. They've been described as belonging to the 'Post Hardcore/Emo' genre – but it could be argued that
To Our Ill Health
offers a much wider range of sounds. If you're into your thrash metal (with a touch of early punk) – you're going to love 'Collections And Incomplete Parts' and 'The Old Prides' – or, alternatively 'Liver' and 'Slaughterers' take it down a notch or two. 'Our Love' definitely has a distinct late 70's punk feel, whereas 'May' is a fairly quiet affair in comparison – slowly building into a highly-charged drum-thrashing track.
But perhaps that's the problem with
To Our Ill Health
- there's a heck of a lot of variation on this six-track album. Clearly the band has a wide range of influences - and sometimes this can be a great thing. However, in this case, the listener might be left wondering exactly which direction Worry Party is trying to go in. There's no doubt that these guys collectively have raw talent and passion in heaps - each song on
To Our Ill Health
will throw a barrage of emotions at you, but the album would suggest that they're still trying to define their sound.
Overall,
To Our Ill Health
shows a lot of early promise, however, after repeated listening, it's obvious that Worry Party still have a long way to go. Perhaps they're still finding their way, or maybe
To Our Ill Health
just tries to combine too many different sounds and influences. Like so many bands, it's probably best to see Worry Party live before you can fully form an opinion – and, if you do fancy checking out these guys, they're currently playing at a number of venues across the UK throughout November and December.