The Fuckin' Glorious: Trite (Self Released)
Yorkshire punks unleash furious debut LP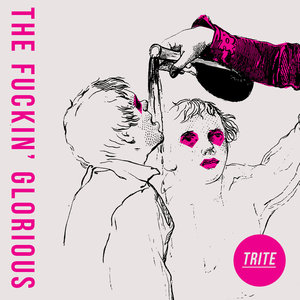 There's a storm coming, and the response is always noise. In an age where we find satisfaction in the gladiatorial metropolitan lifestyles of ripping the limbs of our fellow insects on the inferior levels of the ladder; one can find some escape in the sounds of new post-hardcore post-punk post-everything assaults on the senses from:
The Fuckin' Glorious
and their newly released album
Trite
.
Simplicity is the key, dynamics explode like sticks of dynamite shoved into your eyes and ears greeted with knives without handles; musically, a fantastic mess of a masterpiece, The Joys of Triviality, chugs and charges onward with fierce musical skill. Layers of clever, harmonized interlocking guitars and unhinged chorus chants replicating some brutal playground taunt paying close attention to the common numbness that deflects daylight shining through the lunatic asylum cages, solo without ego, time signatures mutilated without pretentious math crap galore.
Rampant and raging, the whistle of the reaper ends tracks one, followed soon after by the eternally freakish samples stating, 'we will live forever'. Here, the bass becomes the bison, and the wall is painted red, bricks are made of shit, and the city glimmers hideous with traps and adverts. Post-punk guitars, jarred and jagged, pierce the skin on the background, a constant coil of savage musicality gelling colourful germinations of drums and bass, dry vocals at the forefront with backing soaked in a stench of atmospheric reverb spoils; hardly surf, but the experimentalism chops along as though pieces of meat smile before the cleaver kisses them with the attention and attentiveness of death to the diseased.
What we have is album of sirens, of tons of catchiness thrown against the surface and seeing what sticks, those basic punk rock foundations, hardcore and heavyweight as hell, are teased and torn apart by a boiling cauldron of hybrids of hellish genres; the euphoric is unstoppable; and in times where everything is pointless, ordinary is everything. Rise of the Ordinary justifies such a claim; an abundance of metallic guitars discharges bright sparks in the background, a message of passivity, musically matched, fat and massive, but spared and shaved of those commonplace rock and roll clichés that represent nothing more than a few expired pirates living it large in some seedy English bedsit. This is the antithesis, twitching with charm and electrified charisma.
The nightmare grows, the use of samples presents a haunting consistency found in horror movies whereby people really do get slaughtered in the most surreal way possible; Slice of Life, spits and hisses a series of call and responses with the guttural growl of a pacing panther, caged and contagious. Individually, each member of TFG has played an important and unique part in Yorkshire punk rock heritage; and now, as middle-aged men, the germs of those bands transform into gems that spike the bloodstream with a whole host of twists and turns. Fact/Distract; a combination of atonal surf slide guitars and post-punk chord progressions whilst staining its mysterious musical surface with screams and squeals of the hardcore variety.
No less venomous, in this compact and concise splurge of sounds, is the stomp of Safe at Home. The fingernails laying to rest a truly dirty and dramatic set of utensils, static and magnetic, a symphony of screwdrivers and jigsaws providing a tight-as-smile soundtrack to the dooms and glooms of daily life, educated by television, entertained by torture behind the various veils and nets of our own existential environments. Interesting here is how vocals and guitars work with each other; the bass and drums as behaving as some prismatic piece of clockwork keeping everything engrained with a pure punk rock energy unable to be shifted; pneumatic, claustrophobic, the delays of the last decade choked by the smoke of disturbing guitar noises that crawls both under and above the skin: safe and sound, insane and inane.
It's always a delight to listen to tunes of such intensity still possess delicious pop melodies containing enough kick and drama to devour and pulverize the listener in below three minutes. Or Something epitomizes such a fact; ridiculous in how speedy it races, the adrenaline surging; the forceful theatricalities perching upon the end of the nose and with one push, we are gone in a sea of na-na-na and la-la-la and bla-bla-bla; the eternal lullabies of hilarity and lunacy that keep the unhinged bits and pieces together in a swarm of post-punk meats compiled of bone and glue, bodies and bile.
Concluding this momentum; the zombie horde is left Staring at the Sun; a fabulous strike of the matches uniting background and forefront vocals, a frenzy of feedback awakens and shakes to create a piece of contemporary post-hardcore, post-punk, post-post-modern bombast of raw, rock noise. A workforce more warlike than musical, dynamic in how the targets shift in lines of automatic gunfire; whereby we keep on looking after the only thing that matters, Number One.