Prince Rama - Shadow Temple (Paw Tracks)
Eastern drones on Western electronics: Prince Rama impress in the mostly the right places.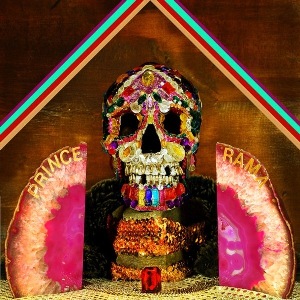 There is nothing wrong with derivative music, as long it's good derivative music. To many fans of indie rock or even faux world music, Prince Rama's Eastern-influenced songs will sound completely unique. And it's probably the case that kids in Brooklyn, or Boston which the band last called home before Brooklyn, haven't really heard or played music like Prince Rama's. But in parts of the Asian sub-continent they'd probably be less impressed.
The band expertly recreates Eastern drones on Western electronics, which naysaying sticklers for authenticity would be hard pressed to find fault with. The thunderous, rapid-fire drumming not only serves to drive the songs forward, but the interjection of idiosyncratic beats and abrupt shifts in rhythm are not only jarring, but keep things interesting. Their new-age-y vocals reach dizzying highs while underline with an almost sinister baritone. The vocals help to take the edge off of their darker tones, and lend playfulness and personality to their masterful pastiche. The lyrics, even the language, they sing in is sometimes completely indeterminable, though this does nothing to hinder the enjoyment of the songs.
What remains to be seen is whether or not their audience will truly engage in the music, or just treat the band and their live show as a novelty to be seen once and not considered beyond that.