Enlish - Cold Lazarus (F.U. Music)
Enlish, heard of him? Well you're about to.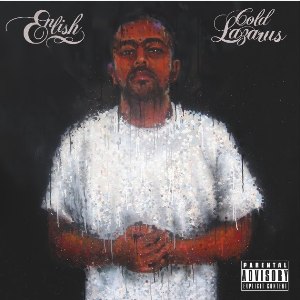 In the last 12 months there has been a definite increase in the level of British hip-hop reaching the ears of the mass populous. In times of economic struggle this can only be a positive, one would hope. Depressingly the only UK hip-hop receiving any form of commercial push at present is sponsored by Lucozade and the closest you'll come to a fascinating insight into the emcees psyche is finding out that he once went to Southampton but he's never been to Scunthorpe... oh and he keeps some clothes round his extended families semi-detached (which I presume not to be in Scunthorpe). I think I can hear Freud approaching an orgasm in his grave from here.
It came as a great surprise therefore, when, upon initial listening to
Cold Lazarus
, the new LP from London based emcee
Enlish
, to find that the inspiration for the album title and it's opening track were based upon the final works of the late British playwright and author Dennis Potter. Admittedly this may be an unknown name to many, but take it on good grounds that he had more interesting items to expound upon than how many G-Shocks he owned, or where he kept his pants for that matter. As does the Enlish who, from the opening audio sample of 'Karaoke' claiming "my life's been given over to writing" wastes no time in delivering a personal and emotionally dense album, but never without losing sight of levity & humour.
The first single to be taken from the album is the wonderfully titled 'Arrogance Is Bliss' featuring label mate
Stig Of The Dump
(himself a much neglected lyricist on the UK scene) and
Sean Price
, a veteran US rapper affiliated with
Boot Camp Clik
. Lyrically the track contains everything you'd come to expect from three emcees all well versed in the rap battle scene and is a refreshing reminder that you can verbally slap another person without telling them what car you drive or what tax bracket you're parked in. Taking the collective showboat to another level however is the aptly titled 'Imagineers Cypher' featuring amongst others Dr.Syntax (it's that long lost theme of intelligence again.) The track is a true testament to the abilities of all involved and contains more elaborate wordplay in three minutes than you'd find in an hour long game of Strip Scrabble against an amphetamine powered Stephen Fry. As an added bonus it also features a bass line that sounds like it fell of the bottom of George Clinton's mothership sometime in late 1976.
However, it isn't all machismo and confrontation. The album also contains a pair of extremely well balanced and reflective tracks in 'I Feel Good' and 'Only Human' and takes some much darker turns as more self-destructive and personal themes are explored. These heavier tracks, which always run the risk of muddying the tempo of an album, are kept buoyant throughout by a keen sense of humour and some razor sharp self depreciation, particularly on the cheerfully anti-social number 'Dickhead'. Which reminds us all of the great British past time; getting hammered and acting a tool. The honest and humorous elements in particular, which thankfully seem ever present in UK hip-hop, are without doubt Enlish' stock in trade and when coupled with his intricate and dextrous flow help to keep the album both focused and varied. At no point in his personal explorations and keen social commentary however does Enlish mention if he's been to Scunthorpe or not. Oh well, maybe next album... Still it's the mystery that keeps a relationship exciting isn't it?