Death In Vegas - Trans-Love Energies (Drone)
A much over-due, but never-the-less welcome return for Death In Vegas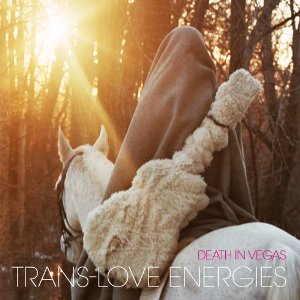 You could have been forgiven for thinking that
Death in Vegas
had fallen off the face of the earth. Their last album
Satan's Circus
was released back in 2004, and it was soon after this that Richard Fearless decided he needed a break from Death in Vegas and moved across the pond to America, to disappear into bustle of New York. He studied photography and film and started up garage rock band, Black Acid – everything he could to get a break from Death In Vegas, the group that he had been working on since he left college with co-producer, Tim Holmes.
Fast forward to 2009, and Fearless returns to London, he is inspired once again to start writing: a process that produces new album
Trans-Love Energies
. Made in Shoreditch, mixed in Michigan, the album will be released as a two CD set with 12 original songs, plus B-sides and remix versions created by Fearless.
Though
Trans-Love Energies
was created without Fearless' initial Death In Vegas co-conspirator, Tim Holmes, the album has lost nothing in terms of those underlying feelings of dread and darkness prevalent in DIV early material. Lyrics and chord structures hint of danger and melancholy; nowhere is this more apparent than in the opener 'Silver Time Machine' (where Fearless whispers a lament to great songwriters and artists that have passed away ("Sid Vicious left me …Elvis left me…") echoed over gently played and heavily affected piano, and 'Witch Dance', where guest vocalist Katie Stelmanis from the band Austra embraces the minor keys, leaving the listener shivery all over.
It's not all drone and doom, though. Evidently the time in New York has done something to mellow Fearless out, which might explain the inclusion of a sci-fi disco number ('Coum'), the lovely stormy soundscape of 'Savage Love' and soaring chorals in 'Your Loft My Acid'.
Highlight of the album is definitely the latter. Fearless is at his very best when the music is allowed to turn the wig-out factor up to 11, like on 'Your Loft My Acid', a seven and a half minute exploration of weird alien soundscapes, Stelmanis' gentle vocals and twanging synth. The particular Death In Vegas brand of electronica - teetering between lo-fi indie and knob-twiddling Detroit techno - is very evident on this album. A welcome return.