Anarbor - The Words You Don't Swallow (Hopeless)
Just a bunch of kids having fun?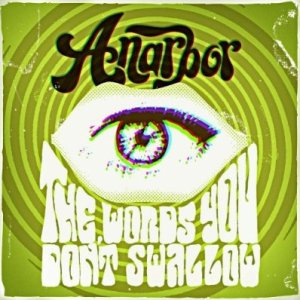 Music is getting too serious. Animal Collective were chewed up and spat out as the pop flavour of the month, only to be replaced by The Drums, a band whose carefree spirit is as calculated as their clothing choices. Foals grew beards and tried to get epic, Joanna Newsom released a two hour long album, Los Campesinos! got cynical and Lady Gaga has made enjoying pop music treacherous thanks to the staggering amount of feminist media theory bloggers weighing in on her fame. Although some might despair that a band like Anarbor, a group of clean cut young kids from America who play upbeat pop rock about girls and the trials of growing up and who may even be Christians (imagine that!), can still exist in 2010, there's an equally strong argument that says the world needs bands like this in 2010 all the more.
It may be simple and trashy, and it may be disposable, but that's what pop music is! If Anarbor have any delusions about themselves, they are not apparent in the music they make. Supposedly influenced by classic rock bands, which you can only really hear in the guitar solos,
The Words You Don't Swallow
sounds more like an American Pie film soundtrack. It's sugary sweet, and you may well hate yourself when you find your foot tapping along, but any revulsion against Anarbor themselves will be pointless. What good would a review slating this record for being unoriginal, uninspired and a little irritating actually do? They'll get plenty of those, and probably not enough that commend them for making an honest record full of the music they clearly want to make. There's no forced indie cool, no contrived experimentation for the sake of it. They're just kids having fun. Which is honestly refreshing to hear, despite the fact that they pretty much sound like Panic! At The Disco.