Preview: The Sea At the End of Her String EP Launch
Storied indie label FatCat launches new EP on their 130701 imprint this Thursday at Brighton's Church of The Annunciation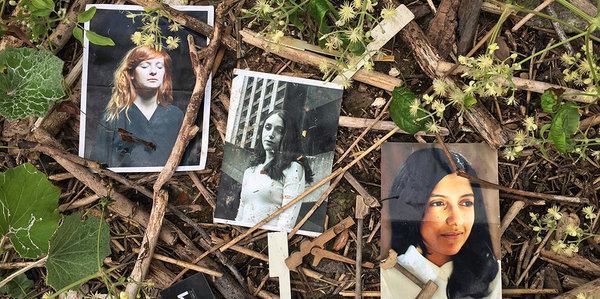 This intriguing gig takes its equally intriguing title from a line in Sylvia Plath's poem Three Women – which is appropriate as the evening showcases three adventurous and distinctive female artists from the current roster of the excellent
FatCat
label, French pianist
Emilie Levienaise-Farrouch
, Polish cellist
Resina
and Swedish-Iranian pianist
Shida Shahabi
.
The evening is specifically a showcase for the eponymous EP featuring two tracks from each of the above trio, plus a 'bonus' track featuring a field recording collage from FatCat label head Dave Howell captured on Severn Estuary wasteland, onto which a number of pianos were fly-tipped amongst other junk.
The EP is the lastest release by FatCat's 130701 imprint, set up specifically to promote artists using classical instruments in non-classical ways. Since its creation in 2001, it has featured post-classical legends like Max Richter, Hauschka, Dustin O'Halloran and the hugely missed Johann Johannsson. This EP and gig marks a second phase expansion focusing on women.
Now London-based, award-winning Emilie Levienaise-Farrouch's musical practice spans film score and sound design as well as her gorgeous solo performance pieces, while Shahabi is flying in from her current home in Stockholm to dip into a practice that has featured site-specific sound installations plus music for dance, film and theatre.
Expect bold improv from Resina – the alias of Warsaw-based Karolina Rec – featuring leftfield melodies and stunning vocal accompaniment that has seen her supporting Godspeed You! Black Emperor and Hauschka.
The setting is the gorgeous Church of The Annunciation set amid the hills of Brighton's hip Hanover. Roll up and not only enjoy an evening of truly distinctive musical exploration but a chance to snap up a limited edition 300-copy vinyl EP (digital download also available) and get it signed by all three artists!
The Sea At the End of Her String EP Launch: Thursday September 27 @ Church of the Annunciation, 89 Washington St, Brighton

Tickets are available here
Further dates:

Sat 28 Sep: RoughTrade, Bristol
Sun 29 Sep: Union Chapel, London (midday show, @Daylight_Music)
Mon 30 Sep: TheHotTin, Faversham