Big Scary Monsters Present the '11 Collection
One of Bearded's favourite labels offer a lovely little deal that means you get a present direct to your inbox every Monday for a year!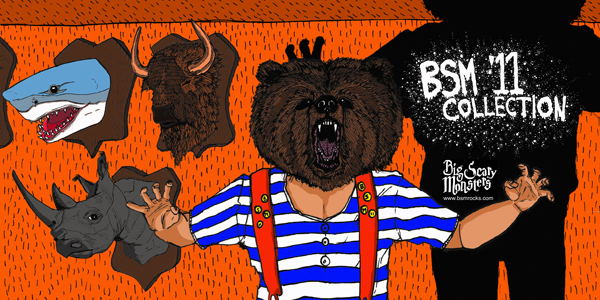 After the success of last years 52 part digital singles club, Oxford based DIY indie label Big Scary Monsters are at it again with their '11 Collection.
The series offers subscribers a new MP3 every Monday morning along with a free CD (from a lengthy list of choices) and an 11% discount on all purchases through their webstore over the next 12 months. The 52 tracks will be provided by the best up and coming unsigned bands, exclusive new recordings from the label roster and the odd gem borrowed from their friends label rosters. Last years series included contributions from the likes of Three Trapped Tigers, Pianos Become The Teeth, Bats, Stagecoach, The JCQ, Scholars, Kevin Devine and Cats In Paris, as well as new recordings from Tellison, Tall Ships, Hold Your Horse Is, Walter Schreifels, Tangled Hair, Grown Ups, Men and Dad Rocks! ahead of their full BSM releases, offering an exclusive sneak peak into the labels future plans. Expect the same this year, with a few little surprises and hours worth of amazing music!
Subscribing usually costs £15 but is available for the discounted price of £13 until the end of January. Get involved at
http://www.bsmrocks.com/11collection
As well as the '11 Collection, BSM have new releases from Shapes, Dad Rocks!, Hold Your Horse Is, Tangled Hair and many more this spring. Keep an eye on the website and
http://www.twitter.com/bsmrocks
for the latest information.