Yann Tiersen / Syd Matters @ The Junction, Cambridge 11.11.10
On a chilly evening in Cambridge, Bright-Young-Things and couples aplenty were in attendance at The Junction – presumably hoping to enjoy some of the delicious romanticism of the brilliant Yann Tiersen – the mastermind behind the soundtrack to the hugely popular film 'Amélie'. However, we were all in for something on an entirely different level of romance…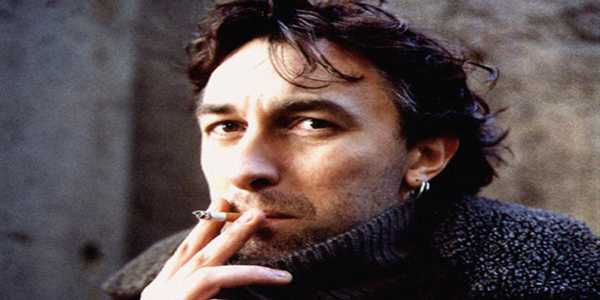 There was to be no gentle caressing at this gig. No staring longingly into each other's eyeballs. No picnics by the riverside. This was either straight to sex, or leave. You could look in every nook and cranny on the whole stage – and you
still
wouldn't find any of that gorgeous whimsy we were introduced to in 'Amélie's' music. Well… maybe a little bit.
First on are
Syd Matters
– an ultra cool five piece whose task it becomes to break the tentative crowd's mild mannered applause. A few songs in and things become a bit sweatier, as the band dip in and out of spectacular tension-building moments found in songs like 'Wolfmother' – a track from their latest album
Brotherocean
, released on Because Music. The gig's dialogue is none more than Syd himself announcing to us on more than one occasion: "Hello, we come from Japan" only to change it to China later on. We hope for his sake (none less his band's) this was more of a dry wit being displayed than a major geographical confusion. Geography aside,
Syd Matters
display a skillful blend of electronic dub (France's genre of choice), and a Nick Drake-esque folk. They open with a blinding set, played by five musicians who collectively have enough musicality and talent to make you feel like the X Factor just doesn't matter anymore.
Onto the phenomenal sounds and scapes of
Yann Tiersen
. Tiersen opens his set with a duet played by two melodicas – a charming little instrument he uses often. A chilling silence enters the room as everyone stares with enraptured anticipation, possibly wondering (like Bearded) what the hell is going to happen in the next hour. Vintage synthesizers await masterful fingers as we watch Tiersen grasping his guitar whilst wearing a Dylan-shaped silhouette. He and his band begin making their way through his new Brian Eno tinged album -
Dust Lane
(Listen to Eno's album
Another Day on Earth
for some interesting comparisons). Complete with swirling electronic noise, sampling a-plenty, and instrumentation that wanders between sublime beauty and cataclysmic madness, the ever-evolving Tiersen performs an all-new set of fascinating songs/musical moods. However different
Dust Lane
initially appears when compared to his previous works, it is not entirely without it's sense of familiarity. The layering of accordions/mandolins/glockenspiels keeps things linked to his older work, with all three being utilized in 'Chapter 19'.
The songs themselves take an intense concentration to listen to. One moment you'll be comfortably sitting with a Smiths-y groove, and the next, you'll be bombarded with catastrophic synthesizer noise, distorted bass and harsh-as-hell electric guitars.
Tiersen talks occasionally to his audience, offering softly spoken explanations to some of the songs, and politely thanking the audience for their enthusiastic applause.
Dust Lane's
music is such that there are no definitive endings to many of the songs – which in turn led to him having to prompt the applause on one occasion with "Yes, this is the end", following up with a leaked wry smile and a chuckle. His sense of humor was genuinely charming, with him dipping in and out of chatting with the crowd toward the end, but thankfully ignoring one
delightful
young man who took it upon himself to yell "Play this one for Trinity collage!" or something equally as inappropriate.
The gig is interspersed with displays of true musical virtuosity, which comes in the form of his blinding and emotionally draining violin solos. So passionate is his playing that by the end of the gig, half the strings on his bow are quite clearly dangling off. Well, either passion, or a shit sound engineer incapable of giving poor Yann enough monitor volume. Probably not the latter though. Hopefully not.
The great thing about listening to an evening of artists whose first language is not English but who sing in English is that you hear all kinds of phrases that you would never expect to hear coming from the lips of an artist whose mother tongue is our own. It is then, to our Anglo-accustomed ears, a refreshing, challenging and enlightening listening experience attending a show given only by French artists – all of whom provide their own interpretations of our favored language. Sentences getting 'lost in translation' become an
attractive
thing – only adding to your experience as a listener as your imagination goes wild. Take
Syd Matters'
song 'English Way' where he sings "If it's too hard to say, say it in an English way" - perhaps reflecting his choice in using our humble language for writing simple, to-the-point lyrics (ladies and gentlemen…we give you The Beatles).
Yann Tiersen's
set ended with the brilliant 'Fuck Me', a song for which the lyrics are simply about…well, excuse our French…just wanting to fuck (forgive us if we are missing the metaphor, Yann). Lest we not forget the words of Syd Matters: "If it's too hard to say…". It is possible that our language's disregard for giving objects a gender (among other factors) makes it easier for French artists to enter into what they perceive as a sense of ambiguity – but what to our ears sounds perfectly clear. Who knows, hein? C'est juste comme ça.
Dust Lane
is out now on Mute Records.