Wolf Alice @ The Institute, Birmingham 31.03.15
Wolf Alice built up to their hotly anticipated debut album with a gig that brought an electric taste of the early nineties rock to The Institute in Birmingham
Mar 31st, 2015 at The Institute, Birmingham / By
Ian Stanley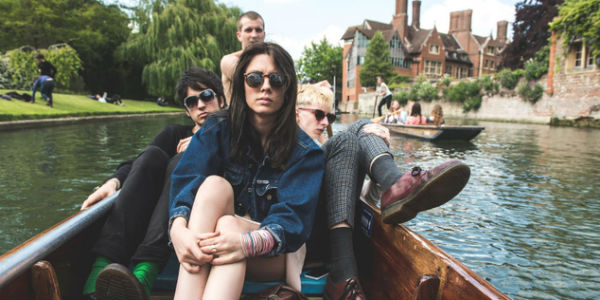 Teenagers going mental in an overjoyed bouncing pit, pissed off bouncers and a frontwoman screaming like the early nineties dragged around by PJ Harvey never ended.
Wolf Alice
at The Institute in Birmingham was full of electric energy for lovers of rock, young or old.
However, before the headliner could take the stage it was the turn of support from
Crows
, a band like The Horrors, but with a lead singer dressed like a 1920s prohibition dealer rather than in black leather, and
The Magic Gang
, imagine Weezer fresh out the womb, if you can. The latter seem to be gathering a strong following as, despite their happy go lucky pop, they whipped up the young crowd into a whirling frenzy. And that's when the crowd surfing started. Pissed off bouncers hauled giggling teenagers from packs of giggling teenagers. It was glorious.
By the time
Wolf Alice
took to the stage the rest of the crowd pushed forward in waves. The band wandered on, upped tools and broke the air with their first ever release, 'Fluffy.' Rasping and wrenching guitar notes pulled upwards with a roaring choral drone from every one of the band pushing the sound out together. "We love you Birmingham!" an overjoyed Ellie Rowsell laughs at seeing the bodies continue being punted back and forth in front of her.
It's been a lengthy road to get to this stage for Wolf Alice. Their first release as a four-piece band, the single 'Fluffy', was out way back in 2013. And although a number of EPs as well as a hefty bit of touring followed, the band haven't actually released a debut album yet. That is until June this year, when
My Love is Cool
will be released. Which is why they are on this headline tour, started in the US and including SXSW festival, Wolf Alice are playing songs from their upcoming album – and at a fairly high velocity.
Crammed into the small, dark room at Birmingham's The Institute Wolf Alice's brand of Hole and PJ Harvey laced rock sings off the walls just right. The new, unreleased songs are just as well received by the pit of kids in the centre as the older members of the audience taking up the periphery of the venue. There are diving deep notes, head banging from the band and howling screams from the lead singer. It's knotted together and with smoke machines hissing out from the side of the stage with the grunge vibes of new and old songs like 'You're A Germ,' 'Giant Peach' and 'Fluffy.'
Wolf Alice will be in your ears and in front of your face this year at festivals and on the radio. Following many years of touring and preparing for their debut release they have made a name for themselves at massive and small festivals as well as filling out venues such as this. This return to rock with a ballsy lead singer is welcome because it's done well, with bite and passion and fun. As if to leave a point to remember, Wolf Alice left with 'Moaning Lisa Smile.' Its power chord progressions and Courtney Love screams geared to sum up the evening. Once more the venue bounced, then vibrated out the doors when the lights went up. Heard from the peripheries one person summed up the fun vibe of the night; "I enjoyed that greatly. Even the little shits who threw plastic cups at me."