Willis Earl Beal @ The Tabernacle, London 16.05.12
Some may have wondered if he is for real, but in a charismatic performance, readymade cult hero Willis Earl Beal justifies the hype.
May 16th, 2012 at The Tabernacle, London / By
Ben Wood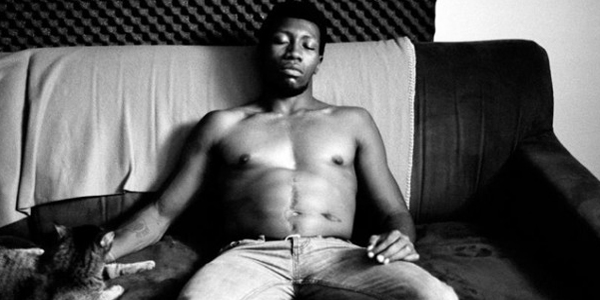 Idiosyncratic, beautiful and hard to find, Notting Hill's Romanesque late-Victorian former church the Tabernacle is the perfect venue for the one-of-a-kind
Willis Earl Beal
. An intriguing mix of beat poet, outsider artist and Tom Waits-ian junkyard balladeer, Beal's backstory makes him a perfect cult hero for the internet age.
After leaving the army on medical grounds, Beal was hospitalised with intestinal problems, worked low-paid jobs and spent time homeless as he developed his distinctive artistic vision. With no music-biz connections at all, and few friends, he left self-recorded CDs and flyers advertising for a girlfriend, all around Alburquerque. Local magazine interest was followed by a deal with XL Recordings, who released his debut album
Acousmatic Sorcery
.
The album sees Beal accompany Beat poetry, bluesy hollers and laidback crooning with basic, unconventional musical backing. Dylanesque story songs nestle alongside Howling Wolf bellowing, Gil Scott-Heron-style conversational poetics and sci-fi imaginings.
But if you expected a shambling, mentally fragile figure a la Daniel Johnston, think again. Beal may be unconventional, but he's in total control of his art. A stockily powerful, good looking man clad in tight jeans, cowboy boots, tight T-shirt and Raybans, he strides into the venue looking like a 1980s Wesley Snipes.
Beal begins the gig by reading a poem from Beat legend Charles Bukowski, about the importance of following your own star. He then belts out a soulful acapella number - this bloke can really sing. Beal then finds a chair and the singsong backporch lullaby 'Evening's Kiss', "a song about redemption", follows.
While his album utilises all manner of improvised instruments, this backing is difficult for one man to replicate live. Therefore much of the gig is performed to the accompaniment of a reel-to-reel tape recorder with prerecorded backing. 'Swing On Low', the song which wowed Later with Jools Holland, is one of several insistent, proto-rap slices of declaimed Beat poetry. Working the stage like a pro, Beal shows off a wide range of old-school stage moves; dropping to his knees, flinging the mike from hand to hand...
Much of this stuff, while accessible enough, is pretty difficult to categorise. One number is like an avant-garde power ballad, a churning loop bringing a sense of impending doom as Beal stands on a chair, a sheet covered in drawings and slogans covering his head. Many of the songs detail his life as an outsider - a detached observer with a poetic, offbeat sensibility.
Whether crooning or belting it out, Beal has the vocal chops to be a damn fine 60s-style soul man, but he's attempting a far more interesting synthesis.
Acousmatic Sorcery
is an eclectic, largely mellow album, but live, many of these songs become more overblown, to allow room for Beal's outsize charisma and performing tricks. The quality control is still slightly variable, but when he hits the spot, this is special stuff indeed.
By the end, he has the audience in the palm of his hand, everyone clapping and stomping in time as the whole audience becomes his backing track. He exits to sustained applause, but our calls for an encore are in vain. He may have sung us all his songs for now.
It will be interesting to see if Beal's music gets less lo-fi, and more conventional, as his profile rises. But it is to be hoped that, along the way, he doesn't lose the quirks that make him special. A self-taught black bohemian who - despite what some critics have suggested - owes more to Jack Kerouac and Robert Crumb than Robert Johnson, Willis Earl Beal is no hype but the real thing. It will be fascinating to see where he goes from here.