The Wave Pictures @ Buffalo Bar, Cardiff 03.06.10
One thing I've learned in the last few years is that it can be a little hazardous reviewing a band that you love.
Jun 3rd, 2010 at Buffalo Bar, Cardiff / By
Andy Price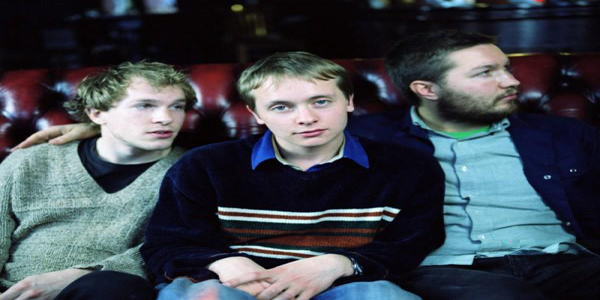 It's incredibly rare that a band will take its creative direction down the same path that you have written for them in your mind, but the Wave Pictures have a good basis, touring and recording in good company with the likes of Jeffrey Lewis and Herman Dune, two bands that release music I can rarely show anything close to disagreement with.
However, I met the Wave Pictures' latest release with a lukewarm reaction, and their last live show that I caught bore a similar response due to a three way amalgamation with support acts Stanley Brinks and Freschard that should have worked but as the backing band for everyone, it ended up all a bit too samey. And often, as an impartial reviewer honesty may lead to a bad review, and while you may follow this code, you do end up feel really guilty.
But following the Wave Pictures' very own show at the Buffalo bar in Cardiff I'm glad to report that it was all very different. Opening with the fantastic 'Strange Fruit for David', the band provided the audience with exactly what they're good at – the perfect balance between upbeat and melancholy.
But it wasn't just the music that made the show so much fun tonight: the three-piece were in notably high spirits - drummer Johnny 'Huddersfield' Helm providing much of the evening's entertainment as the butt of many jokes; his ever so slightly clueless but entirely relaxed demeanour putting everyone at ease.
"This next song is on our new EP", bass player Franic Rozycki would say, shortly before the drummer attempts to play something completely different. The fact that the song was on the EP was news to Mr Helm, he thought it was on their recent album 'If You Leave It Alone', which apparently it isn't. "Well what is then?" he asks. It appears that this is how the 'business' side of the Wave Pictures works. "I leave myself out of it," he continues.
And it's Wave Pictures' lead man David Tattersall, remaining relatively quiet throughout who decides to take the lead and start another song. I still have no idea whether this was on the EP or the LP. "So now we're playing an unreleased song?" Johnny Helm adds further to the confusion…
But despite their apparent lack of knowing which songs have been released and which haven't, the music is impressively tight. The audience was given a full run-down of the three separate talents – the first half of the set, Tattersall was on the acoustic guitar, essentially leaving Rozycki to play lead on bass. But the set really came alive when the electric guitar was introduced for crowd favourite 'Leave That Scene Behind', introducing us to the incredible efforts, much improvised, of a Tattersall guitar solo.
But it wasn't long before the spotlight was back on the drummer and what is always a highlight of a Wave Pictures set. "Johnny 'Huddersfield' Helm on lead vocals?" questions Tattersall in between songs. A pause. "Sure why not?" replies Helm.
'Now You Are Pregnant' is possibly the best of the band's barely released songs – it can be found on their Myspace page and obscure compilations – but it features a beautifully honest and earnest Helm at the front, while a completely understated guitar line by Tattersall is played out underneath – the crowd applauds loudly.
It was at this point in the night that trend become clear and that the way the Wave Pictures work is to bring the pace all the way up and then as far down as possible – but it works – for most of us. But though the crowd was appreciative, they certainly weren't holding on every word, which, when it comes to the narrative and intricately detailed lyrics is a shame.
After a great show from the band, fully on form, all that's left to say is to look out for the new EP – this show restored faith in the Wave Pictures for me and while I can't relay any details of said EP from what the group said that night, press releases can be a band's best friend. The Sweetheart EP is out on June 7. Enjoy, and catch a live show – this is a band with infinite potential.