Visions Festival @ London Fields, London 02.08.14
Having sold out for the second year running, Visions Festival was well placed to bring the PARTY to London Fields in 2014. Did they succeed?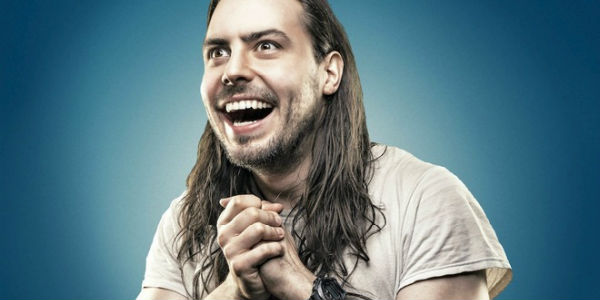 Visions
is probably the newest multi-venue music event to hit our fair capital – the event is spread across four venues, showcasing 28 acts to around 1000 people in 'cool' spaces around London Fields. The line-up was strong; brimming with alternative newbies (…and
Andrew WK
…) and the festival even provided a Sailor Jerry sponsored Rooftop Bar + BBQ, complete with an Andrew WK arm-wrestling competition. Yes, it seems that Andrew WK (pictured) was the mascot and centrepiece of the day!
Bringing absolute chaos to The Laundry during his early evening set, the party monster encouraged a full-to capacity room of bopping fans to climb over the barrier and 'party' on the stage. Beer was flying through the air, security guards were multiplying by the second, (and yet amidst the sweaty commotion, I couldn't get someone to lift me up to crowd-surf for love nor money, despite many attempts). It was undoubtedly the most 'alive' moment of the entire festival. Of course it all ended in tears, as an angry security guard very literally pulled the plug on the show to a roaring chant of "PARTY! PARTY! PARTY!"
I don't know how Andrew WK – albeit a now infamous motivational speaker and advocate of PARTY – managed to turn an audience of head nodding, chin-stroking hipsters into a crowd surfing, stage invading, chanting MESS, but by golly he did.
However, before the Andrew WK sweat fest took place and made everyone want to go and take a nice cold shower,
Bearded's
first pit stop of the day was
Alice Boman
at New Empowering Church. Boman played a stunning set of haunting tunes with her unique honey-soaked vocals, and an unassuming presence. The audience was spellbound, and the atmosphere was perfect.
Onwards to The Laundry for New Yorkers
Perfect Pussy
, who are currently making quite a stir on their EU tour. It being our first visit to the venue that day, we weren't quite expecting to be greeted by a dense wall of muffled noise, inaudible vocals, and a very faint smell of piss. (I mean, we could forgive the piss smell if I could actually make out a single note being played – some of the best venues in the UK smell of piss). It's good practice to try and listen beyond bad sound and judge a band based on their performance, but this was impossible. We left to catch the end of
Songhoy Blues'
set at New Empowering Church, who in contrast had the whole room dancing to their breed of tropical blues. Crystal clear guitar wailed out across the room as the band delivered an incredible and unique performance to a happy audience.
Eagulls
are an upbeat, scuzzy post-punk band, and they would have been great live if again it wasn't for the abominable sound in the Laundry. However, their energy shone through, and hits such as 'Coffin' had the crowd swaying.
Young Fathers
at Oval Space were next up. The group's strain of feverish hip-hop and their pure on-stage dynamism engaged a mixed throng of dedicated fans and fair-weather festival goers. The Laundry was full to the brim for
Andrew WK
who was on next, a crowd awash with beer and sweat and a passion for PARTY. It was undoubtedly a festival highlight for many.
Perfume Genius
headlined New Empowering Church, while
Polica
took over Oval Space for the headlining slot. It was a tough choice, but Bearded has a very special love for Perfume Genius. As the chatty and excitable crowd piled in to the venue, and the drinks flowed, we slowly began to realise the worst – 'this crowd has no intention of shutting up does it?' As predicted, the audience talked through the entire set, as Perfume Genius tried their best to remain fragile, offering a superb mix of well-known and fresh material to a wall of chatter and the occasional "SHHHHSSSHHH!" It was undeniably frustrating as a gig goer, and we imagine it wasn't a walk in the park for Perfume Genius either. Suffice to say, the performance was ruined. The band played incredibly, and deserved every person's attention in that room – it was a travesty that they didn't receive it. We left Visions festival with a bitter taste in our collective mouth.
Having said that, the festival was brilliantly curated, the audience (however noisy and ignorant) had an awesome day, and the event clearly has all the potential to step its game up next year.