Vetiver @ XOYO, London 29.06.11
XOYO is a classic Shoreditch venue: a minimal underground warehouse space with exposed pipes, dirty walls… and a packed, expectant crowd waiting for slow-burning San Francisco dudes Vetiver.
Jun 29th, 2011 at XOYO, London / By
Ben Wood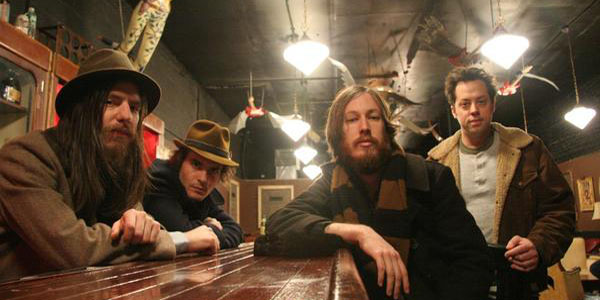 From the band's inception, singer/bandleader Andy Cabic and colleagues' talents have been appreciated by the leading lights of what used to be called the 'freak-folk' movement – they've toured and collaborated with Devendra Banhart, Joanna Newsom and Vashti Bunyan. But they're a more accessible prospect than that may indicate: the band's recent fifth album,
The Errant Charm
, showcases a gently eclectic, subtle and affecting take on the West Coast sound.
Cabic is a charming frontman, modest yet impassioned, his hat, beard and workshirt reminiscent of a cross between an Amish farmer and Bob Dylan circa
John Wesley Harding
. 'Wonder Why' kicks off proceedings, peppy and more upbeat than much of the band's material, perfect 'driving down the highway with the wind in your hair' music – though Cabic's mic problems leave us to wonder if this will be one of those 'they'd be great if you could hear them' gigs.
Luckily, normal service is soon resumed, and while Cabic's conversational, low-key tunes don't exactly dominate proceedings, they are a perfect fit for this least rocking of band – there's not a Keith Moon drum fill or powerchord to be heard, rather a subtle alchemy that weaves its magic almost imperceptibly.
Most of the new album gets played, with jazzy, Doors-style excursions, 60s garage rock organ and soothing lullabies all making an appearance. There's a laidback but positive, lazy sun-dappled afternoon feel about some of these tunes that shares something with 60s stoner-pop legends The Lovin' Spoonful.
Elsewhere, subtle 80s influences are woven into the band's sound, with Gracelands-style guitar grooves and keyboard textures. Cabic straps on a harmonica and acoustic guitar for one well-received number; while swirling organ graces 'Lunacy', from the band's debut.
The band's greatest ability is to settle into a laidback, ever-mutating groove. Shades of The Byrds circa 1967 and a Go Betweens cover come and go, before an unusually upbeat encore hints at Motown, and sends everyone home happy.
With
Vetiver
, the devil is in the details. They have crafted a warm, supple, understated sound which is endlessly listenable. In the nicest possible way, they could lull you to sleep with no problems at all. The world's first ambient garage band? Maybe…