Unknown Mortal Orchestra @ Cargo, London 05.02.13
Singer/guitarist Ruban Nielson is a psych-pop visionary who makes warm, soulful, trippily tuneful music as Unknown Mortal Orchestra. Now a shit-hot three-piece, the band's second album II is released this week.
Feb 5th, 2013 at Cargo, London / By
Ben Wood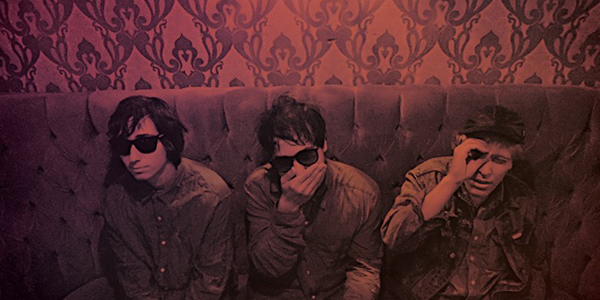 Nielson is clearly a man in love with the classics, and, a la Jack White, insistent on recording in analogue. This old-school approach pays off: both on record and live, this is melodically rich stuff and, no matter how the band jams out, it never lapses into self-indulgence or forgets to serve the tune.
Nielson's music has been getting a lot of love on 6Music, and he seemed humbled, and chuffed, by his reception from the sold-out crowd. By his admission,
II
was written during an intensive, drug-soaked period of touring - and sure enough, the boys looked pretty baked when they hit the stage. Nevertheless, they threw themselves into the music with abandon: Nielson bopping delightedly around, while bassist Jake Portrait wore a shit-eating grin throughout and drummer Riley Geare did his best Animal from the Muppets impression.
There's a definite classic rock vibe about this lot, but the melodies are so strong, and the influences mashed up so well that it rarely feels predictable. Portrait's super-funky bass helped every song fly, preventing it ever getting stodgy - despite Nielson's worries. "Was that OK? Not too turgid for ya?" he asked after a storming version of
II's
rifftastic rocker 'No Need For a Leader'.
He shouldn't have worried. Playing most of the band's two albums, the trio covered lysergic desert boogie, late-Beatles tunefulness, Doors-esque spookiness, kick-ass 70s hard rock, falsetto white boy soul ('So Good At Being in Trouble'), and some serious guitar hero action. The blokes to Bearded's left were grinning delightedly and air-guitaring every time Nielson essayed some classic Neil Young noodling or finished a song with sculpted Hendrix-style feedback.
Nielson's vocals started off kinda croaky, needing Portrait's backing to beef them up, but soon hit their stride. The night's catchiest tune, 'Swim and Sleep (Like a Shark)', belies some seriously trippy lyrics, while the first album's 'Boy Witch' ended the set on a widdly guitar workout.
Despite looking ready to drop ("We've come a long way and we've got stomach-aches!"), the band encored with a rocking version of Syd-era Floyd classic 'Lucifer Sam', before leaving us for good.
They'll be back in the Spring, and it'll be well worth getting a ticket - just as long as the chaps get some sleep in the meantime...