Uncle Acid and the Deadbeats @ 02 Academy, Birmingham 22.04.14
Providing the macabre Autumn to the Summer of Love, Uncle Acid live in B'ham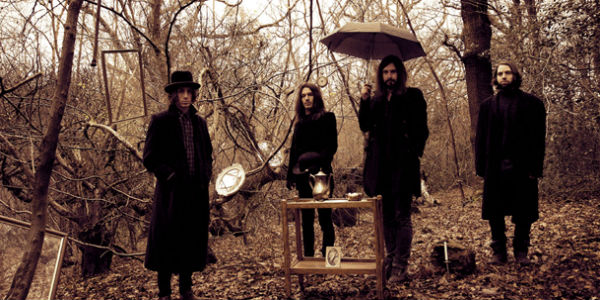 Darkness descends on Birmingham's 02 Academy as what looks like Macbeth's witches (with tag along drummer) take to the stage. Good luck trying to work out any facial features on these guys as the imminent darkness and lengthy hair follicles prove as allies for this cartoonish occult.
Full of metal purists from way back when, when the late-70s escalation of galvanising quasi-boogie had really struck its chord, it seems the majority of this crowd are ready for the new gear of concept metal or at least trying to grasp onto strands of it.
However, it's hard to pin anything on these guys; some would say doom metal, but it's too disorientated for that. They borrow molecules from psychedelia with Kevin Starr's vocals bearing more than a likening comparison to Kevin Parker's of Tame Impala fame.
Whether it's drudgy, sludgy riffs and slow paced dirges or squealing, elongated solos with an outro that lasts purely on head-banging,
Uncle Acid
has took his tab and swallowed it. Whether it's a bad or good trip though you decide; the music has a leering menace that is covered, not entirely by an ostensible groove.
About five tracks in and 'I'll Cut You Down' completely shakes up the pretty-pacey-for-a-metal-setlist. Cutting through the sparse huddle of the crowd and throbbing in every available diameter, Starr steps up to his microphone, the veil of lank hair shielding his face as he adopts the nasal, not quite there vocals of 60s psych frontbearers.
Tracks like the bluesy desert lilt of 'Poison Apple' and jamming drones of 'Follow the Leader' percolate through the building, lurking in the corners. It's a good job the venue isn't brimming to capacity and there's room to stand comfortably because the amount of (questionably clean) hair being tossed around is second to none.
Uncle Acid sound and look great but there's nothing really exciting to change the pace and keep your attention centralised on them for too long. They don't seem too pushed forward, expanding and creating sonic landscapes with the textures they've got; if anything, they sound more nostalgic than futuristic. Maybe that's why they've filled the void that other stoner-doom bands are struggling to cement, because they taste upon the dark side of The Beatles.
They're groovy yet evil. They are the macabre Autumn to the '60s Summer of Love headrush: the aftermath of Altamont channelling the spirit of Charles Manson. Which is good enough for me.
Uncle Acid and the Deadbeats Links