Ulrich Schnauss @ Brighton, St Luke's Church 25.03.22
Electronica maven brings his ambient / shoegazing live show to the South Coast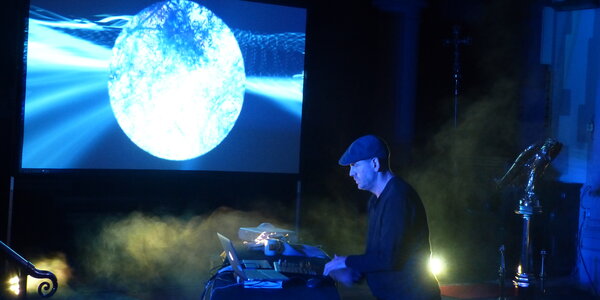 Brighton's soaring St Luke's Church provides a wonderfully atmospheric setting for the spirit-touching grandeur of
Ulrich Schnauss
long-form electronic improvisations on this welcome UK tour, after nearly two years away from these shores. Where better than a historic church to play otherworldly music, surrounded by saintly statues and ancient arched stonework.
Following excellent support acts BUNKR and Richard Norris, Schnauss appears sporting a spritely cap, and starts mixing laptop magic in front of a big screen playing brilliant visuals from Sussex-based AV-creatives Innerstrings. These feel integral to a dazzling sound and vision experience, complementing and bouncing off Schnauss's beats - as in the opening minutes when breathless thumping percussive rhythms sync with jagged graphic images that look like mountains rising and falling at breakneck pace.
Ulrich doesn't say much – or anything, in fact - to the sell-out crowd during the captivating hour-and-a-half he plays. But the connection with the audience feels fine as each section of the set flows seamlessly into the next, with Schnauss too engrossed to acknowledge the applause in little quieter moments before another shifting aural weatherfront sweeps in.
The vibe switches throughout, as when a section of sharp percussive beats bouncing off heavy slabs of noise flows into minutes when more metronomic rhythms interplay beautifully with slow melody lines.
At another point, the abstract trippiness of the visuals gives way to images of giant tulips and sweeter sounds, before one of the highlight sections when Schnauss delivers a thrilling mix of mid-tempo beats and echoey chiming sounds that pulse through the body of the church.
A lovely late spacey section nods a little to Vangelis as well as Schnauss's current other outfit, Tangerine Dream – the sounds matched perfectly with visuals that look like a black hole surrounded by dancing forcefields of energy.
Both hypnotic and full of hooks, this is music to give you time out from the world's current stresses. As Schnauss says: "I've always used making and listening to music as a way to escape – to leave reality behind for a while, reminding yourself why it still makes sense to carry on".
Photo credit: Norman Miller