Twin Peaks @ Manchester Deaf Institute 17.04.16
Chicagoan alt. rock/power pop quintet return to the UK in barnstorming form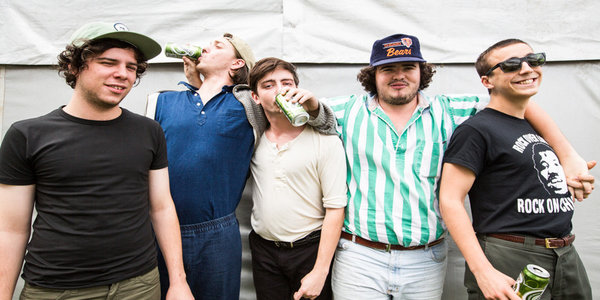 'That's gotta be the biggest disco ball I've ever seen' lead singer/guitarist Cadien Lake James remarks sounding impressed a few songs into
Twin Peaks
headline set at the Manchester Deaf Institute. The shimmering sphere above the dancefloor certainly does stand out amidst the Victorian brickwork of the venerable building, the live room of which is rammed full (on a Sunday, no less) for the Chicagoan band's return to the city.
Seemingly never off the road, the band's live set exudes a confidence to match their ragged enthusiasm, with the quintet possessing enough assuredness to dispense with arguably their best known track, the superlative I Found A New Way as early as second in the set.
With the feeling of 'there's plenty more gems where that came from' tangible, as the group power through the opening cuts, bar the exception of recent single Walk to the One You Love the new material, as yet unheard by the vast majority of the crowd receives the same reception as sure-fire bulleyes Flavor and Good Lovin'.
Amongst the new songs the ba-ba-ba-ing chorus of Butterfly instantly finds favour alongside the anthemic Holding Flowers while the beautifully forlorn You Don't highlights the mellower elements of excellent forthcoming third LP
Down in Heaven
.
A band unusually blessed with four singers, rhythm guitarist/singer Clay Frankel's Brian Jones-evoking Vox Teardrop axe and keys player/guitarist Colin Croom provide the melodic ballast alongside Cadien's lead vocals, the 'Peaks redoubtable harmony vocals revive a practice sadly neglected by most modern guitar bands, providing additional melodic counterpoints while also hinting at treasured influences The Band and the Beach Boys.
With half of the venue's standing capacity seemingly pogoing for the entire set, courtesy of the band's engine room, Fat White Family T-shirt wearing bassist/singer Jack Dolan and powerhouse drummer Connor Brodner navigate the territory between Stones'-y swagger and light limbed guitar pop, the latter exemplified by the wonderful Telephone.
Concluding with an extended rampage through Strawberry Smoothie that develops into a chaotic improvised coda, the five-piece depart to clamourous applause. With their popularity meaning they have well outgrown playing basements (
Liverpool live review
), at this rate theatres surely beckon next time the Michigan crew arrive in Blighty.