Tune-Yards @ Cockpit, Leeds 13.02.12
Following success last year at the Brudenell Social Club and still in the wake of WHOKILL, Tune-Yards were rightfully met by a swathe of ravenous loiners (or 'Leedsians' as Merrill suggested or perhaps even 'lions' as an enthusiastic spectator insisted) all gathered to witness the forthcoming spectacle. It is a shame to see her here in a less warm and welcoming environment but capacity is the priority here and as Merrill walks onstage, Bearded takes it's flat pint of Carling and squeezes its lardy-arse into the crowd.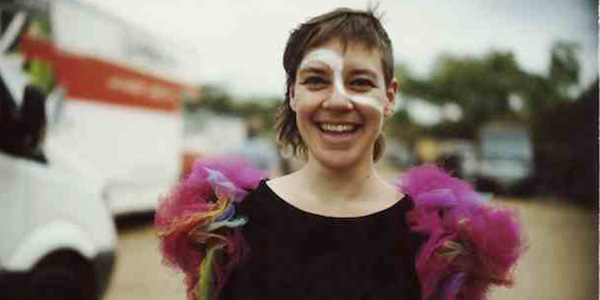 It is a rare and fervently individual character who can so readily embrace androgyny and yet remain intensely feminine. Her face smeared with fluorescent warpaint and framed by dark golden locks that are at once wild and tamed, Garbus screams 'DO YOU WANT TO LIVE?' whilst pumping her fist in the air and waiting on an affirmation from the crowd. The standard has been set for energy levels and it is one they mean to maintain but it couldn't be guessed from the informal interactions that are played out between songs. Readily taking in jokes from the audience and bouncing them right back, Merrill seems as eager to be here as we are and soon finds herself at home.
Warming up and setting the scene with a few album tracks including the jaunty, chromatic 'Es-so', the entrance of Garbus' siren imitation sounds the beginning of 'Gangsta' and we are submerged in a deluge of live brass and schoolyard sass. The arrangement of the live performance of this piece belies the amount of time put into tightening up the group and, aside from Merrill's fantastically faltering singing towards the end (mimicking the electronically produced cuts in the original vocal track), the twin saxophones are the ones to watch here. Flowing in and out of each other with a trademark Tune-Yards chromaticism, they adhere to the band with a finesse that suggests jazz training.
Due to most of the songs requiring loops to be built up before the entrance of any structure, the introductions to the tracks regularly tended to deviate from their recorded counterparts. But far from being a bad thing, this provides extended moments of suspense to the beginnings of songs as Merrill provides what can feel like a 'behind-the-scenes' look into the creation of her pieces as she layers vocal harmonies, drum beats and ukulele parts. Perfectly exemplified in 'Powa' (which starts on record with the instantly identifiable ukelele picking pattern and subsequent hard strumming) with Merrill creating a non-specific drum beat, cutting it out to the ukulele line and then reintroducing the beat just as we'd all forgotten about it.
As a final note, it would seem important to promote the contributions of oft-sidelined Nate Brenner. Always to be found in a dark corner of the stage plucking steadily at a bass guitar, the intensity of his permanent, Garbus-locked stare is the first hint of his importance. Providing a solid, earthy base for the imagination-ridden concepts of the wild lady he follows, Brenner grounds Garbus in a way that pulls the performance together and it is easy to see how it could quickly become messy and over-complicated in his absence.
After an extended encore that includes the long-awaited 'Bizness', it was a satisfactorily bloated Bearded that strolled away from a gig that had neatly outstripped its already high expectations. A display of such tight musical competence is rare and to find it fronted in such an optimistic, innovative and energetic fashion is pure delight.