Torche/Part Chimp/Chickenhawk @ Brudenell Social Club, Leeds 23.11.10
Hot damn do Chickenhawk know how to make Bearded happy. With their newly released Modern Bodies out earlier this month, the guys have been touring, promoting and perfecting their set since the release and it really shows. With the biggest audience reaction we've ever seen from a second support band, they clearly knew what they were doing.
Nov 23rd, 2010 at Brudenell Social Club, Leeds / By
Jack Sibley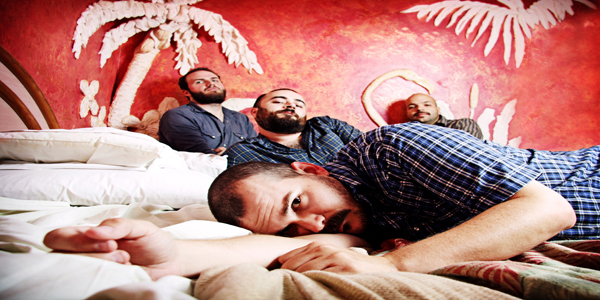 Lead singer, Paul Astick, has honed his trade to near perfection, jumping in and out of the crowd and screaming down the microphone with a ferocity akin to the fox in the chicken shed. And that's seems to be the point of
Chickenhawk's
live show – no compromise. All the guitar lines flew out of the amps with all the technicality of the studio, the drummer still jumped around the kit like the skins were burning his sticks and the bassist stood with an air of sturdy cool rarely bothered by the bedlam transpiring around him.
So after a strong start it was interesting to see how the other bands would choose to follow such energy. With quite a different sound,
Part Chimp
were always going to change the mood and their uniquely dark, self-described 'stoner-rock' flowed like bitter treacle across the crowd, simultaneously awaking and sedating. There's a lovely ingenuity to Part Chimp's sound and they seem to have found a near-perfect balance between noise, grimy distortion and, under it all, great rock songs. The melodies, rhythms and structures of their music were never far from the surface and, where most bands would outright hide these features away, Part Chimp championed them and made the important realisation that good song writing should come first. It was an eye-opening performance that, whilst being quite a contrast to the previous crazy punk kids, got a loving reaction from the Brudenell – a venue with quite the penchant for noise.
Finally, on came
Torche
and basically gave the crowd exactly what they'd been waiting for. At this point the proper metalheads came forward from the back of the room in all their darkened glory and Torche went straight at it with continuous double bass and a roar-like vocal. Providing nothing more than expected obviously has its limitation though and it still felt like they lacked so much, having played after two bands with such freshness and vitality. Unfortunately, they didn't win us over – the crowd loved them and jumped and moshed to their heart's content, but going with the popular vote is something I'm guessing we all know can be a mistake.
All in all, the problem with this gig was the programming. The first two bands were brilliant in their own right though it sort of felt like Chickenhawk (as the local heavy band of the moment) had been called in for a 'metal' gig at the last minute with very little thought actually put into it. Also, the headliners were predictable and boring and brought the whole night to a shuddering stop for this critic. None of the bands quite fitted together and the night genuinely felt like it was going through adolescent mood swings. More research and less generalisation would have made these three separate gigs with different supports that could have been far more enjoyable.