Tokyo Police Club @ the Ruby Lounge, Manchester 30.03.14
A warm, personal and utterly charming performance from the Canadian indie band as they return to the UK after four years declaring "Everything closes here on Sundays…but not us, we're open for business!"
Mar 30th, 2014 at The Ruby Lounge, Manchester / By
Ian Stanley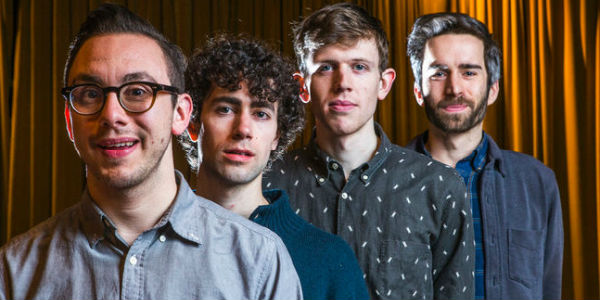 Since
Tokyo Police Club
burst onto the scene in 2006 with the seven track, 17 minute ball of indie dance-floor energy
A Lesson In Crime
EP, they have been called Canada's answer to The Strokes, released two full-length albums, made a random appearance on Desperate Housewives (yes, THE Desperate Housewives) and, on the evidence of their performance in Manchester, gathered a cult-UK following.
Tokyo Police Club's first song of the night is 'Argentina (parts I, II and III).' It's a nine-minute mission of a song and a total departure from the short, concise, barely-beyond-two-minute, songs that initially gained Tokyo police Club their admirers. Despite its length 'Argentina (parts I, II and III)' still delivers a concise and enjoyable energy.
From this point on the band endear the audience to them, not just with frontman Dave Monks's warm vocal, but also his comments - "It's good to be back in your fair town, we're Tokyo Police Club from Canada."
Then there's a guitar solo – an actual solo – and not the angular, cutting fill which usually punctuates the poppy indie Tokyo Police Club deliver. Add that to the nine minute, three part 'Argentina (parts I, II and III),' the bright and poppy 'Hot Tonight,' and some surprisingly heavy riffs and Tokyo Police Club have added a new layer to their back catalogue since they disappeared into the ether four years ago.
However, Tokyo Police Club's back catalogue feels just as rammed with joy, reflections on childhood and crashing Nintendo-like sounds as ever. Songs like 'Favourite Food,' 'Favourite Colour' and 'Bambi' really hit the nostalgia buttons.
This live performance relies heavily on the lead guitar guiding and vigorously vibrating the tightly woven songs around the recorded versions. This gives the band more excitement and invention. 'Nature of the Experiment' is re-crafted so the lead guitar pops in a large sonic ping punctuating the direction on the stuttered chorus, and changing it ever so slightly from 2006's
A Lesson In Crime
version. To finish, a slowed version of 'Juno' is mashed into a crashed 'Cheer it On' before exiting stage went down brilliantly.
But there's still time for one more personal moment. Dave Monks returns alone with a guitar and quietens the room. He steps away from the microphone. Some sort of hippie-like love-in ensues as the venue sings 'Tessellate.' Then Monks sings the wrong verse. But it only adds to the charm of the performance – this could have been rubbish or cheesy, but it was more inclusive.
After a four year absence Tokyo Police Club returned to plenty of whoops and singing along. This was an utterly charming and warm performance from the band and as Dave Monks's says, "Everything closes here on Sundays…but not us! We're open for business!"