'Time Out' London Sessions Festival @ Camden Barfly 22.04.11
Ben Wood watched veteran garage-rock dudes Clinic headline a seemingly randomly assembled bill of soundscapers, groove-makers and piss-takers…
Apr 22nd, 2011 at Camden Barfly / By
Ben Wood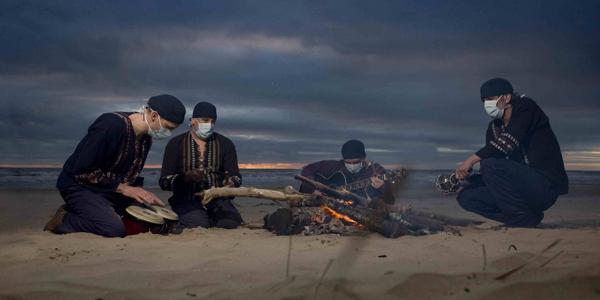 This Easter Bank Holiday, London's listings bible Time Out took over Camden indie mecca the Barfly for three days of bands, DJs and art installations. It was bunny-boilingly hot all day Friday, which may explain the fairly modest attendance for the opening day's intriguing if patchy bill.
Those indie kids not working on their tans had to do battle with some fairly sketchy logistics. The event was billed as starting at 2pm, but the first band didn't come on upstairs until 6, and even after that, the stage was empty for nearly half the time – necessitating an awful lot of traipsing up and downstairs. Meanwhile, the DJs in the downstairs bar may have started off playing Iggy Pop and the Velvets, but later in the night were serving up bog-standard chart R'n'B that brought an air of the market town meat market to the venue. Strange...
Opening duo
Cloud Boat
may not be much to look at – two blokes, a guitar and a variety of FX boxes – but are generating some good buzz, and you can see why. Lauded by Gilles Peterson and Rob Da Bank, they have a debut single coming out on R & S Records; and recently supported man-of-the-moment James Blake. They oscillate between calm and unease: occasional soulful vocals merely another layer of a sound encompassing wispy nu-gaze guitar atmospherics, post-rock noodling, rumbling dubstep subsonics, head-nodding beats and occasional blasts of dissonance. They end in style by upping the energy levels and getting almost epic on us. A spooky treat, or slightly avant-garde, currently fashionable wallpaper? Not quite sure, but their next moves will be worth watching.
Clout!
are a young band with some intriguing ideas that sometimes get lost in the mix. Constantly shifting vocalists and instruments, it's clear they're having a ball as they serve up off-kilter grooves topped off with sometimes rather tuneless vocals. Random shouting, splurting sax, echoey bass rumbles and funky semi-ballads all make an appearance. There are certainly plenty of ideas here, but they need to work on their arrangements – most songs splutter to an end, and their set eventually loses momentum. When they have decided whether they want to be messy or muso, controlled or chaotic, they may be a very interesting proposition.
Engine-Earz Experiment
are no better than their name would suggest, ravey 90s-style festival rabble-rousers who come across like a very poor man's Faithless. Fronted by an MC with little to say and a female vocalist peddling Top Shop transcendence, they've been bigged up on Radio One and are supporting the Streets, but are only an 'experimental' band if you think sticking really obvious guitar riffs, ragga chat or trance-lite wailing over dated techno is radical. Yes, the first Leftfield album was great but it was done with one hell of a lot more subtlety, musicianship and originality than this. If you're over 16, avoid…
Ipswich rapper
Dels
has an album out on Ninja Tunes' hip-hop imprint Big Dada Records and has enjoyed some seriously good press. His left-field lyrics and synth-heavy tunes have invited comparisons to Roots Manuva, and the Times has called him "the future of UK hip-hop". He's not bad, but the paper is surely overstating its case.
Refreshingly free of gangsta or sellout tendencies, Dels has a cerebral, thoughtful presence. Backed by a dreadlocked drummer and female keys and guitar, he drops science over some pretty bombastic backdrops. Some of Dels' lyrical preoccupations are Roots-like, for sure – after all, if your labelmate was the best rapper in Britain, you'd be influenced too. He alternates between I-mean-business attitude - fighting the dark side and staying true to his path - and space-cadet reveries ('Eating Clouds'). Sometimes, like on 'Moonshine', he enters into proggily avant-garde territory. But it's all a bit po-faced – for this critic, the best rappers are damn funny too. Dels has his moments, but a bit more light and shade, both lyrically and sonically, would really see him shine.
We Have Band's
sweaty, cowbell-heavy grooves take us back to the days when punk-funk ruled, the Rapture were hip as hell and actual, erm, songs were of secondary importance. The foursome's putative frontperson is a blonde rock chick with Cleopatra eyeshadow and skintight American Apparel disco pants, seemingly lost somewhere between a pagan rite and an aerobics class. She barely utters a syllable, as her bandmates – a 80s NY-cool keyboardist, and trucker-cap-sporting bassist - take the majority of vocal duties. WHB's straight-ahead, party-down approach went down a storm, though they worked better when they dropped the gothy leanings and got disco-fied.
Liverpudlian headliners
Clinic
surfaced at the tail-end of Britpop, and have remained a cult concern with their arty, psych-tinged and dirgy garage rock. They have a way with a title ('IPC Sub-Editors Dictate Our Youth', anyone?), a nice line in jazzy, modernist record sleeves and a touch of pagan spookiness about them.
Resplendent in surgeon's scrubs and masks, the band start on a high with a throbbing, trancey groove. Crowd favourite 'Lion Tamer' goes down well, before the band moves down-tempo for a sweet number with a summer of love vibe. Muffled, hard-to-pick-out vocals and some lovely organ tones are two key ingredients of the set, with wah-wah guitar and fuzzy, overdriven rockers increasingly to the fore.
Overcoming the occasional sound problem, the lads end to a decent reception and are off the stage with the same lack of ceremony with which they entered it. Solid but not groundbreaking, they would benefit from a more powerful vocal presence. Somewhere out there is a Scouse band without a 60s obsession, but we haven't found them yet…