The War On Drugs @ The Kazimier Liverpool 23.02.12
Pennsylvania's finest deliver a mesmerizing set at The Kazimier, Liverpool.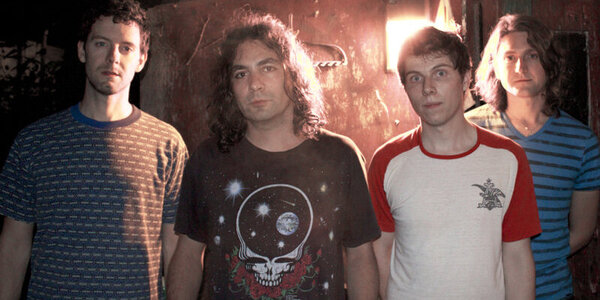 With expectations vertiginously high for the first live outing of
Slave Ambient
, widely considered the best album to have come out of the States last year,
The War on Drugs
arrive to a sold out room at The Kazimier.
Walking onto the stage face obscured by a huge Cousin Itt hairdo and a splutter of smoke, Chief Druggist Adam Granducial launches into their opening salvo, setting their exhilarating clangour in motion.
While fellow countryman Neil Diamond doesn't appear to be much of an influence on the present group, his album title
Beautiful Noise
goes a long way in describing the band's oeuvre. A sensuous collision of shimmering guitars, thudding basslines, swirling keys and understated motorik beats, the four piece take the best bits of Americana and recast them into new forms.
Whether the band would be able to reproduce the out-of-focus beauty of the record in a live setting is answered almost immediately with a resounding yes. Replete in plaid shirt and jeans, Granducial looks the spitting image of Neil Young from the balcony staggering round his FX pedals, wringing dexterous solos from his axe, the band sure-footedly changing gears on his instruction.
Aside from the stellar performances all round the singer makes for an engaging frontman, enquiring about Liverpool's upcoming fixtures and hauling two members of the crowd up onstage to play rhythm guitar during 'Brothers' much to the audience and the two participants' delight.
Effectively a distillation of the band's essence in one song, the freewheeling Tom Petty vocal melody underpinned by My Bloody Valentine washes of feedback, slowly blurs into one glorious deluge of sound. Elsewhere 'Black Water Falls' evokes a widescreen re-creation of Dylan's
Highway 61 Revisited
filmed by David Lynch, emotive American rock shot through with a strain of compelling weirdness.
Slave Ambient
understandably supplies the bulk of the set, the iridescent likes of 'Come to the City' providing solid proof rock music is still able to innovative almost sixty years since its birth.
The longer the group remain onstage, the more they appear to be enjoying themselves, with 'this is our last one' said at least three times in the course of lengthy set. Following a colossal rendition of The Waterboys' 'A Pagan Place', the bassist sets his instrument down, assuming the gig to be over, only to pick it up and grinningly resume playing after it becomes apparent the band have far from outstayed their welcome.
After nearly two hours they depart to thunderous applause, the audience truly sated after a mesmeric show. If any band succeed in playing a better gig in the city during the rest of the year, they will have to go one better than the skyscraping standard set by tonight. Sublime.