The Stranglers @ Liverpool O2 Academy 08.03.16
Punk veterans on reliably excellent form at a near-capacity Academy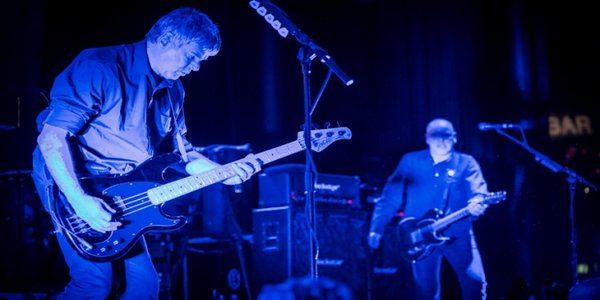 As the number of rat adorned T-shirts scurrying around Lime St. train station and surrounding streets prove, some bands announce their arrival before a note is even played. Over forty years since their initial appearance, punk survivors
The Stranglers
, have been at the coalface continuously ever since.
Older than their punk contemporaries and vastly more gifted musically, the Men in Black possess one of the finest singles CVs (the essential punk format) these Isles have produced. That said, they were no slouches at long players either, as the present tour underlines, a front to back showcase of their third album, the experimental
Black and White
(1978).
With Baz Warne on vocals for the past decade, the band's line up has shifted in recent years with septuagenarian drummer Jet Black stepping aside for the run of live dates. Anchored by four-stringer JJ Burnell's bass-from Hades sound, (ripped off wholesale in the nineties by Elastica) powerful enough to sound like bridge suspension cables flexing in the wind and keys player Dave Greenwood's dexterity behind his bank of keyboards the bulwark of the band's sound remains as strong as ever.
Walking onstage to the demonic swirl of keyboard instrumental waltzinblack, the opening notes of Tank are fired up and the band race through the first poppier 'White' side of the LP, culminating in a storming rendition of Toiler On the Sea. Decked out in their standard stage attire of all-black duds, the white fronted amps and simple, hard lighting stay in place for all of the album set.
The second, experimental flipside signalled by the off-kilter time signature of Curfew sung by keys player Dave Greenfield along with the eerie likes of In the Shadows reinforce the theory that the disc was one of the first ever post-punk LPs.
Taking the heads down no nonsense boogie approach to the album, the entire disc is aired almost without pause, the batteries running down effect of closer Enough Time giving way to the bracing rush of debut single (Get A) Grip (On Yourself) with the light show switches to Techincolor in tandem.
The band's wonderfully scabrous version of Bacharach and David standard Walk On By plus the anthemic Always the Sun shine amongst a clutch of more recent cuts and lesser known album tracks before rounding off the main set with a phlegmatic version of Something Better Change.
Returning for the first encore, the original double A-side pairing of knockabout pub rock stomper Go Buddy Go is succeeded by the lascivious/lecherous/possibly ironic strut of Peaches. Back on stage for the second time the reception afforded Hanging Around and a bludgeoning take on their greatest moment No More Heroes (complete with traditional one-handed keyboard solo by Dave) give the very strong impression that the band originally called The Guildford Stranglers won't be retiring anytime soon.