The Space Lady @ Rudolf Steiner House, London 17.04.14
Psych pop gems from a 1967 Summer of Love original
Apr 17th, 2014 at Rudolf Steiner House, London / By
Ben Wood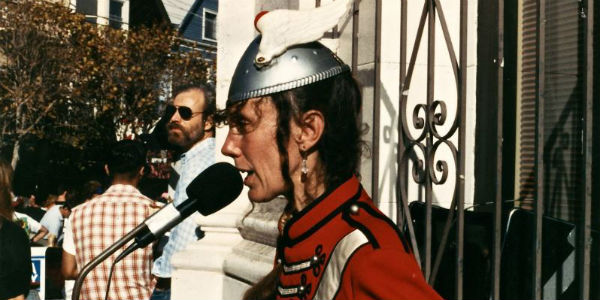 The first Summer of Love ended nearly 50 years ago but for Susan Dietrich, aka
The Space Lady
, it's still going strong. The 60-something American charmed a packed Rudolf Steiner House with her sweetly melodic musical outsider art. Witty and radiating positivity, this Boston/San Francisco/Colorado busking legend transformed countercultural psych-pop gems into primitive, proto-acid house electro-pop, and gave us a few of her own tunes too.
The name is appropriate - Dietrich says she has astrally travelled the universe, guided by friendly aliens; has had psychedelic experiences in the past (surprise surprise!); and space, as the theme of most of her songs, is clearly an obsession - but she seems very clear and lucid, not at all an acid casualty.
She is, however, a one-off.
The Space Lady
greets us wearing her trademark headgear - a winged helmet crowned with a flashing red ball. Years of minimal budgets have forced her to be resourceful, and the hat, and three tiny flashing lights on her computer are her sole concession to the notion of a 'stage show'. This is as lo-fi as it gets - even her Casiotone synthesier is pretty darn ancient.
Coming on to rapturous applause, The Space Lady opens with The Beatles' beatific 'Strawberry Fields Forever', a lovely slice of blissed-out reverie that suits her style perfectly. Simple echo and phased FX make the song even more trance-like and nursery-rhyme-ish than the original. On tunes like cosmic voyage epic 'Major Tom', there is an acidic burble to the synths, while her voice switches between a conversational tone and a pure, haunting register which can sound sweet or Grace Slick-spooky, depending on the song.
Space is the final frontier, to quote Star Trek, so it seems appropriate that our heroine has a fondness for cowboy numbers. 'The Ballad of Captain Jack' could be a remodelled Johnny Cash story-song, while 1940s classic 'Ghost Riders in the Sky' ("yippee-aye-eh, yippee-aye-oh"), with it's spectral horses, prefigures psychedelia in a mythic Wild West setting.
Much of The Space Lady's set consists of copper-bottomed classics, like Steppenwolf's 'Born to be Wild' (complete with shrieking, whooping mid-section, a la 'Whole Lotta Love') and The Electric Prunes' I Had Too Much To Dream Last Night'. The Sweet's glam-rock barnstormer 'Ballroom Blitz' is fast, funny and cool as fuck. But her own tunes, such as 'Synthesise Me', don't always fare well in comparison - though 'Humdinger' is pretty cute.
If the set has a problem, it is one of variety. While TSL produces some cool sounds from her keyboard, her sonic palette is a fairly restricted one. One is sometimes left wishing for more colours, textures and dynamics - for drums or guitar to kick in, or for a song to get trippier. As it is, the songs sometimes end when they should be taking off into the cosmos; while the juxtaposition between far-out subject matter and minimal staging is occasionally a jarring one.
The best psychedelia is utterly immersive: with their strobes, oil projections, incense etc, the original psychedelic events created an entire sensory world to get lost in. Here, we see a lady in a silly hat standing on a bare stage in a lecture hall where booze is forbidden - not the easiest environment in which to shed your inhibitions and reach for the stars...
So, The Space Lady has her drawbacks. But charm can take you a long way. Dietrich is immediately likeable; her patent goodness and sincerity are touching; and she has great taste in tunes. While pacifist hippy idealism may be a hard sell in 2014 London, Dietrich has won over this crowd - her version of John Lennon's Utopian hymn 'Imagine' is rather lovely.
As the gig ends, The Space Lady receives a standing ovation from the entire audience. She is touched, and so are we. Maybe space is the place after all....