The Secret Sisters @ Leaf Café, Liverpool 11.05.11
The superb Muscle Shoals siblings armed with only an acoustic guitar and two vintage microphones leave the audience spellbound at the Leaf Café, Liverpool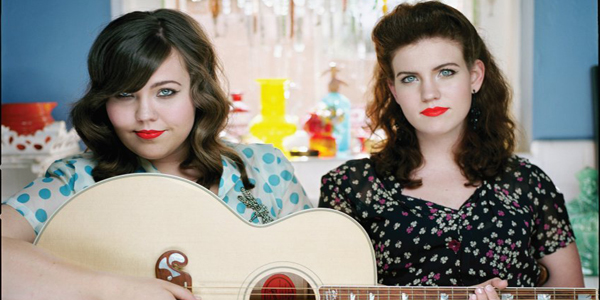 Whilst their home country unfortunately remains unmoved by their mournful country ditties, following on from their highly acclaimed appearance on Later… with Uncle Jools over the New Year,
The Secret Sisters
have seen their stock rise considerably in Blighty.
Tapping into the rich tradition of family units in country and roots music, an illustrious list that includes The Brothers Loudin and Everly, The Carter Family, and The Whites Stripes (well, kinda) Laura and Lydia Rogers effortless sibling harmonies are beautifully matched.
The refurbished mini-ballroom of the Leaf Café with its wooden floors and peeling paint on the walls are wonderfully suited to the Sisters' music, the duo's sound and the venue both having seemingly been in preserved in aspic since the 1950s.
Stood behind vintage microphones seemingly borrowed from the Grand Ole Opry, the combination of two voices and a solitary guitar prove powerful enough to win over the audience with supreme ease.
The duo continue as opposed to merely recreating the sounds they grew up hearing from the 1950s and earlier, sounding totally contemporary in the age of Lady Gaga. Whilst the likes of Delta Maid have been given a massive push into the charts, the production scrubbed so clean it makes Taylor Swift sound like Loretta Lynn, the Sisters clearly don't care for the hi-tech gloss of contemporary 'country' singers that clog up the charts of their homeland.
'House of Gold', a sweeter variant on Hank Williams' immortal Lost Highway supplies the set highlight, whilst 'Tennessee Me,' effectively their signature tune has the crowd spellbound. With many of their live performances in the US backed by a full band including a weeping lap steel guitar, the Rogers' return visit to the city with other musicians in tow can't come soon enough.